2022 Young achievers honoured
06 Jul 2022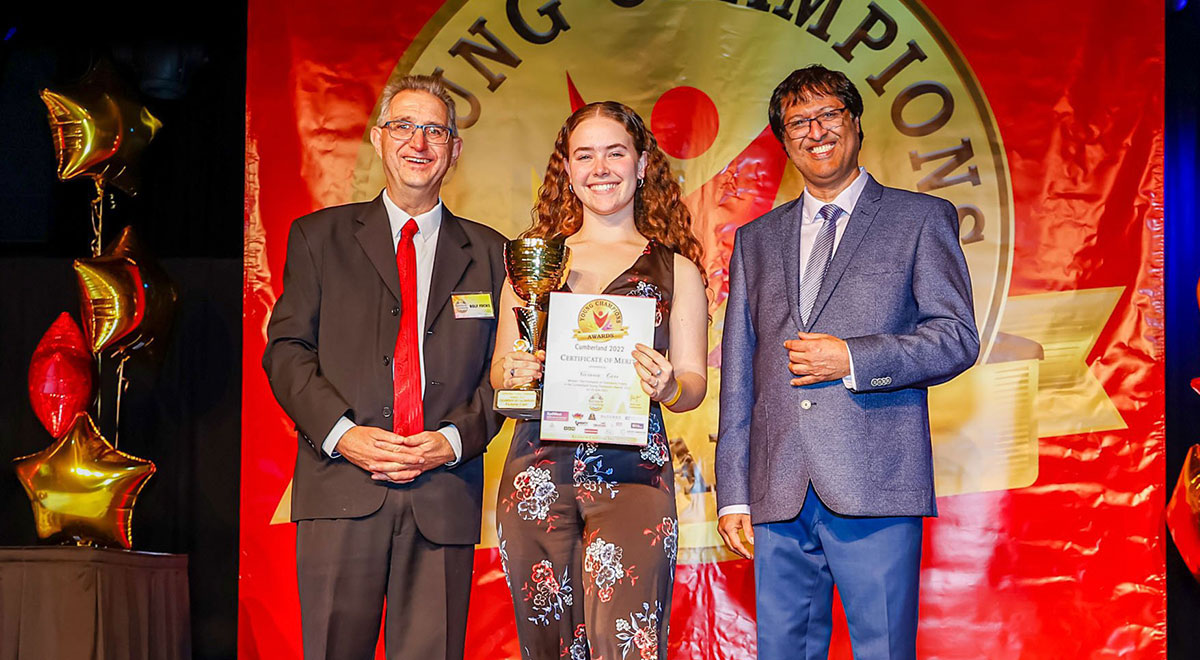 Victoria Carr with Rainbow Crossing Director Rolf Fuchs and Chairperson Brian Laul. Photo Credit: Ropes Crossing Inc
Victoria Carr was crowned Champion of Champions at the inaugural Cumberland Young Champions Awards earlier this month.
Over 100 young achievers from all over Cumberland were honoured at an inspirational and glittering awards ceremony.
"It is so exciting to be recognised in this way. I'm speechless and so thankful," said Victoria, the school captain at Catherine McAuley Westmead.
This 17-year-old Greystanes resident was nominated by her school for excellence in academics and public speaking. She was also nominated by Guildford Greystanes Physie Club, which she has represented at the Junior Nationals 11 years in a row and is a current state title holder.
The Cumberland Young Champions Awards 2022 was organised by popular local not-for-profit, Rainbow Crossing Inc., to a packed-out Starlight Room at Wenty Leagues Club.
The Cumberland Young Champions Awards was initiated by local entrepreneur Brian Laul, Chairperson of Rainbow Crossing Inc., to acknowledge the achievements of our young people under 19 and to celebrate the contributions they make to our wider community. It is a one-of-its-kind event in the Cumberland Local Government Area.
"It is my hope that these awards will inspire young people of all backgrounds to rise above their difficulties and pursue a journey of excellence," Mr Laul said.
"We have so many talented and passionate under-19s creating positive changes and sometimes just a pat on the back, a little appreciation, can make a real difference and give them the determination to go even further." As the evening's host, Julieanne Horsman from radio station C91.3 exclaimed, "What a gathering of goodness in a single packed room!"