School Dux For 2022 Announced
16 Feb 2023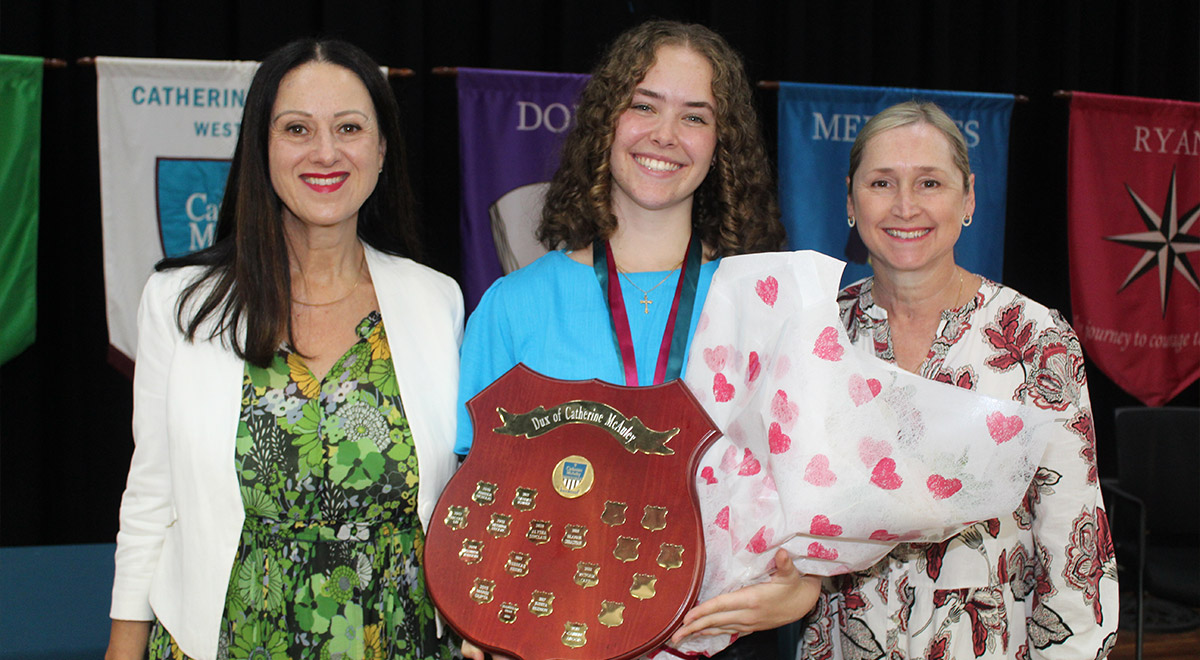 Congratulations to Victoria Carr who has been announced as the Dux of 2022.
Victoria achieved an overall ATAR of 98.9 and attained a Band 6 result in Studies of Religion 1, Chemistry, English Advanced, Mathematics Advanced, Mathematics Extension 1 and Physics. Victoria has accepted an offer from Sydney University to study a Bachelor of Psychology (Honours).
Mr Michael Hall, Assistant Principal, spoke for the whole Catherine McAuley community when he told those gathered at the High Achievers Academic Assembly, "We congratulate you Victoria on this outstanding achievement and wish you every success in your future. You certainly embody the Mercy value of excellence and are a remarkable role model for our community".
Victoria addressed the assembly in her Dux speech and began by welcoming her fellow high achievers. "I feel an immense amount of pride to stand here today, alongside all of you representing not only our cohort's incredible academic achievement but also our dedication to our goals and collective efforts to succeed. Thank you to Ms Refalo and the Leadership Team for welcoming us back here and to each and every student and staff member for the role you've played in guiding us along our McAuley journey".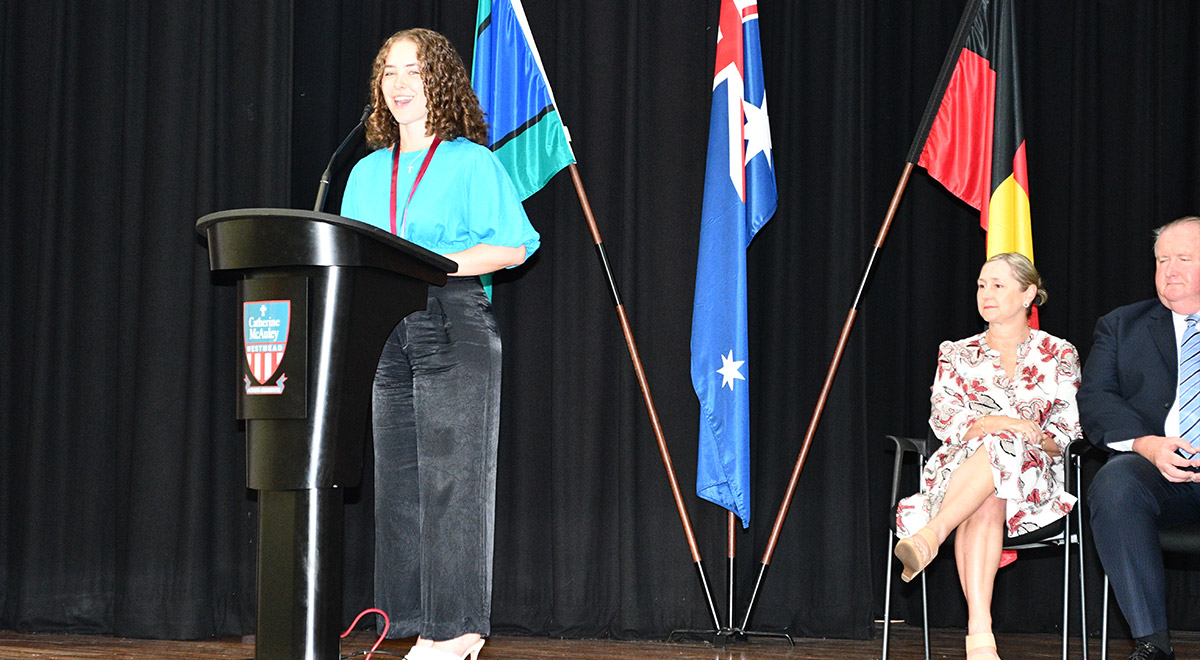 Victoria went on to tell the assembly how as a Year 9 student she began to doubt herself and became anxious about returning to school. In particular she was anxious about her new accelerated Mathematics class and worried that she wasn't good enough and wouldn't be able to keep up. "Looking back now I think that I was more scared of what people would think of me than actually failing. I didn't want to be too loud or too inquisitive and that insecurity manifested itself in an incredible amount of self doubt".
Victoria told the assembly that "it's easy to think that fear of failure or rejection are what stop us from trying new things. But often we are more intimidated by our own incredible potential because in order to become better than you are today, you have to grow. You have to surround yourself with people who make you a kinder, more empathetic person. You have to build habits that are productive and rewarding. You can't complain about things then not act to change them or put other people down and expect to feel good about yourself".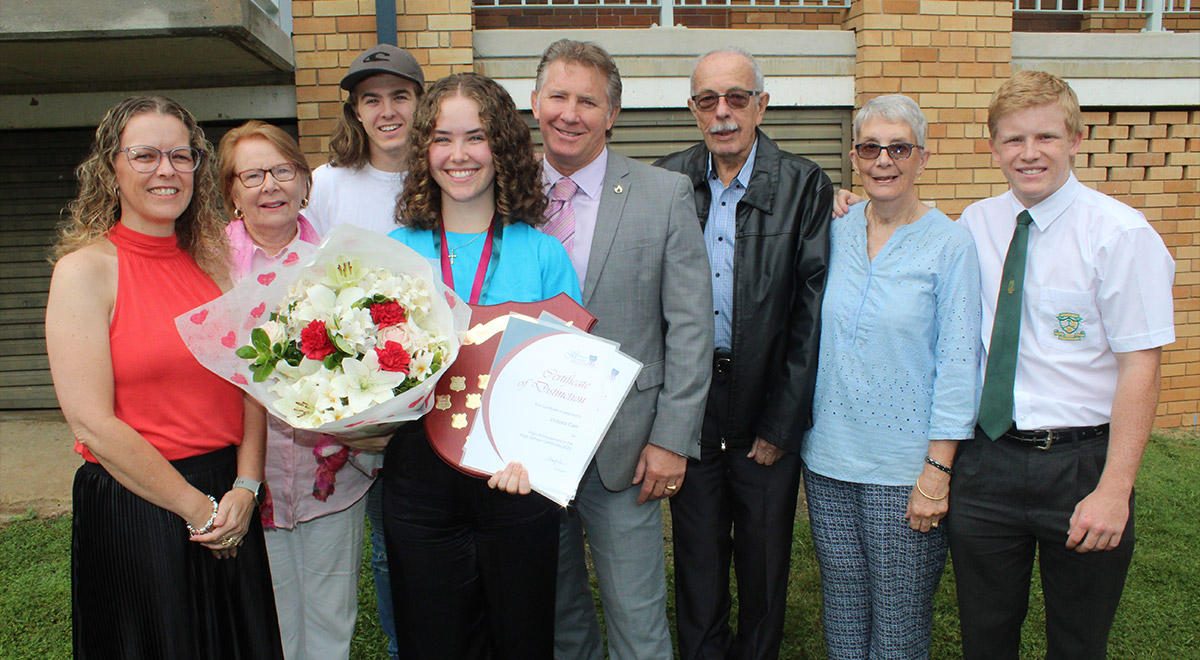 "You have to have discipline when motivation fails and you need to recognise that your words and actions are more powerful than you know. Don't be afraid to stand out, to say no to behaviours that don't help you to grow; gossip, jealousy, ignorance and yes to activities that nourish you; debating, public speaking, representative sport or leadership. In doing this, you'll find that you come to know yourself better. You'll discover the subjects you enjoy and the things you excel at. You'll find like minded people who help you to develop. You'll appreciate that you really can do all things through Christ who strengthens you".
Victoria finished her speech by telling the Catherine McAuley students assembled that she hoped they too will overcome any fear they have and choose to grow to their utmost potential. Victoria encouraged the students to be willing to let their light shine upon those around them, giving permission to others to do the same.