2022 Year 11 Students Receive Sound Advice From Ex McAuley Students As Part of Alumni Careers Panel
13 Oct 2022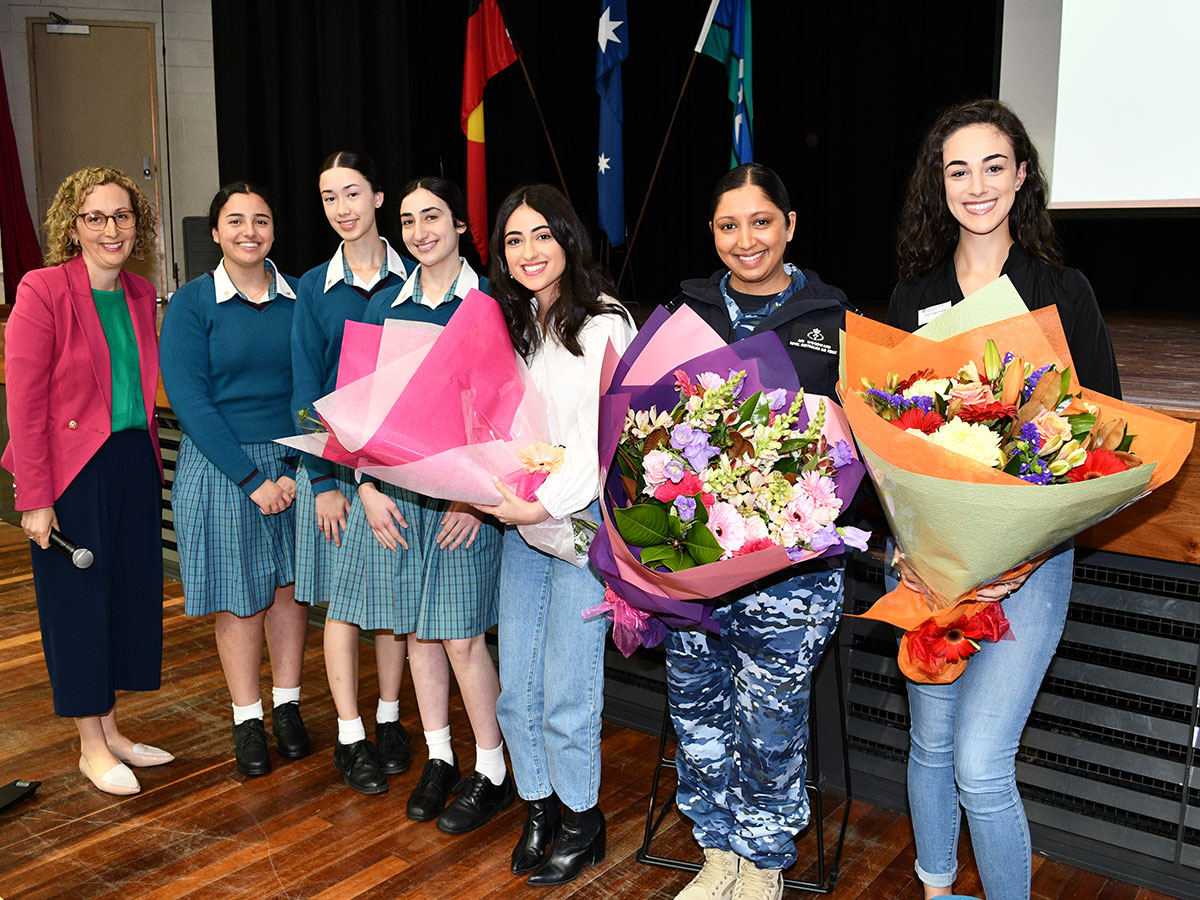 Choose courses based on your interests and don't worry if you still don't know what you want to do when you leave school.
This is the advice given to Year 11 students this week who were fortunate enough to listen to three ex-McAuley students speak as part of an Alumni Panel Careers Discussion organised by Mrs Chahine, School Careers Adviser.
Ariadne Woodward (nee Colaco) Class of 2012 attended the Australian Defence Force Academy and is currently an Aviation Instructor with the Royal Australian Air Force (RAAF).
Tianna Sukkarieh Class of 2016 studied a Bachelor of Philosophy, Politics & Economics at The Australian National University (ANU) and is currently an Adviser - Fiscal Policy, Department of Prime Minister and Cabinet.
Settimia Luccitti Class of 2019 studied a Bachelor of Commerce majoring in Finance at Australian Catholic University (ACU) and has just obtained a graduate position at PwC to start in 2023.
All three ex students advised Year 11 to do what they love and choose courses based on their interests.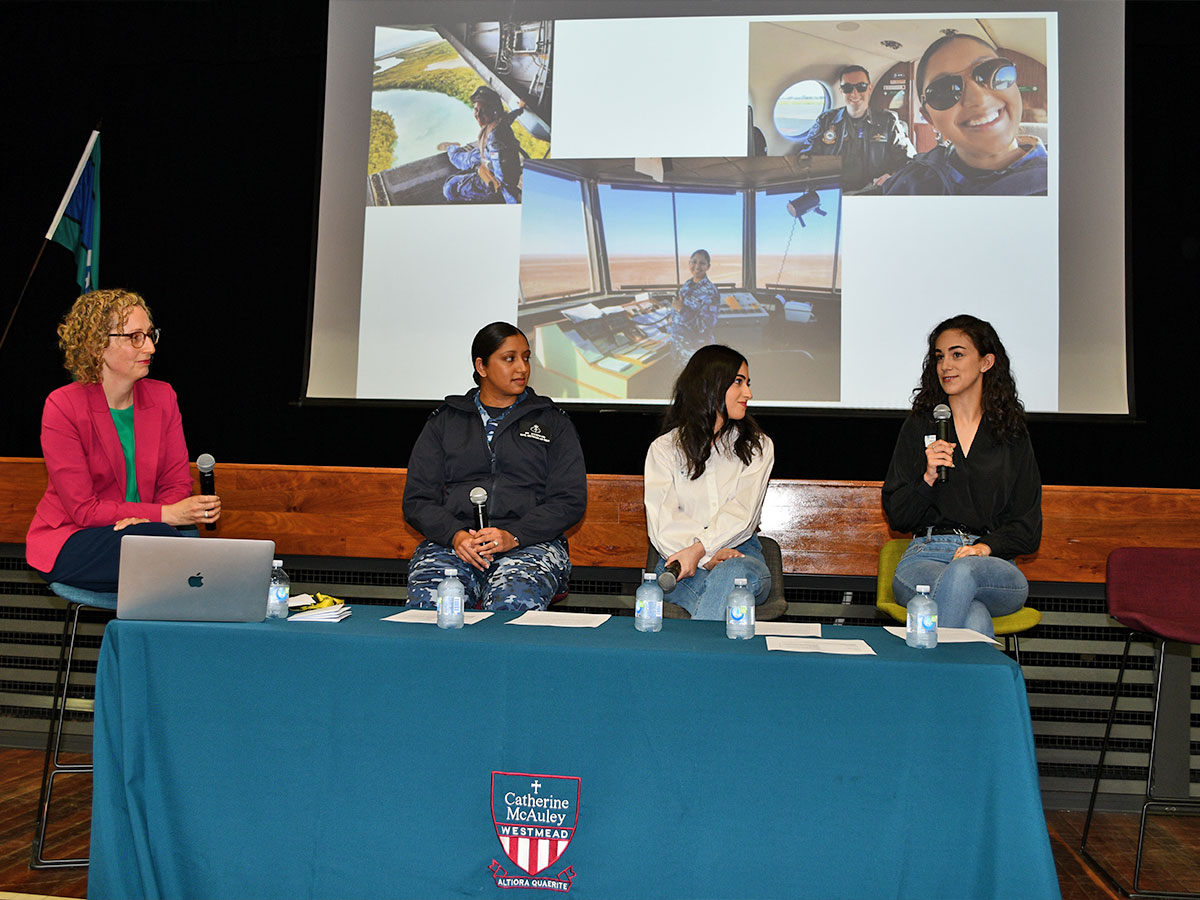 "I have always had a love of aviation and flying and I therefore knew I wanted to do something in that area", said Ariadne.
"However I am not very good at maths so although I looked at obtaining my pilot licence I knew I was better suited to be an air traffic controller. Work to your strengths", Ariadne told the Year 11 students.
I literally stare out the window at my day job. Teachers say you can't stare out the window but you can!
Ariadne is now working as an Aviation Instructor based in East Sale, Victoria where she is training air traffic control to junior air force officers.
She has previously worked in Adelaide as a Tower Controller and at Darwin International as an Approach Controller.
"All the subjects I chose at university were based on my interests. If you pick subjects you are not interested in you will not enjoy them. I learnt this the hard way after choosing maths and physics in my first year and yet I do not like maths and physics… so I failed them! The following semester I had to do five subjects to make up but I learnt from this mistake".
Ariadne studied a Science degree at ADFA and then completed a year of intensive air traffic control training to obtain her diploma to be an air traffic controller.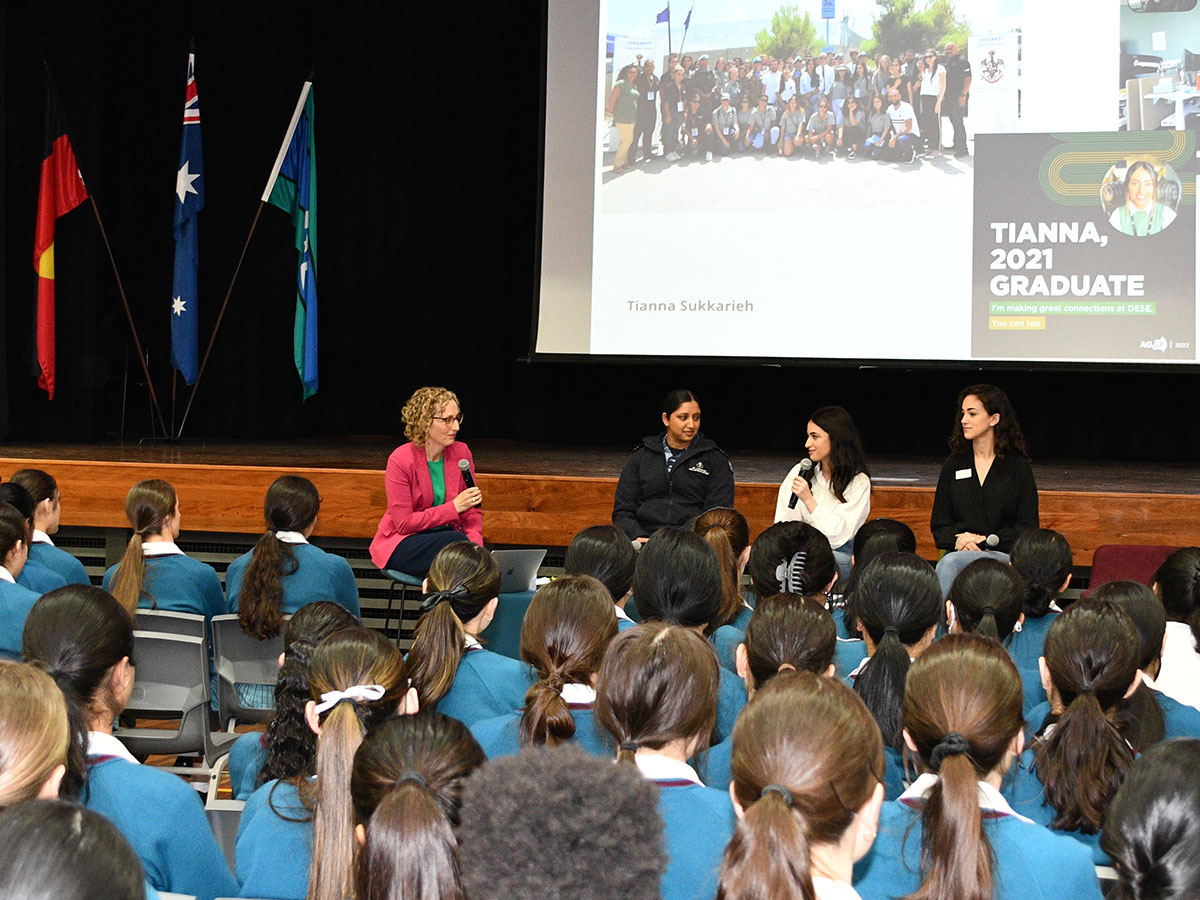 Tianna Sukkarieh is working as an adviser with the Department of Prime Minister and Cabinet and gave similar advice to students.
"The year after school I still had no idea what I wanted to do", she said.
"I took six months off to think about it and realised that I was focusing too much on looking at the end goal or outcome of a course rather than actually thinking about what I want to learn and what I want to know more about. You don't really know what you don't know so I started from the point of what I want to know more about and that is how I chose a course. I knew I was interested in international affairs and politics and also how philosophy intersects with these areas so I chose a course in those areas".
Settimia Luccitti said that she had always thought she would work in childcare but it was her Business Studies teacher in Year 11 (Ms Relan) who inspired her to look at Finance.
"Ms Relan was so passionate about Business Studies that I too then developed an equal love for it and particularly for finance".
Settimia has been accepted into a highly competitive graduate program with PwC and will be working in risk and regulation insurance.
"I would advise students not to place too much emphasis on where you go to university", she said. "I am at ACU, a university more known for nursing and teaching, but if I let that get to me I would have never applied for a graduate program at PcW. Don't worry about where you go or compare where others are going".
Thank you to Ariadne, Tianna and Settimia for returning to school to inspire the Class of 2023!
---