2022 Catherine McAuley Students Nominated As Best In The Diocese For STEM
21 Jul 2022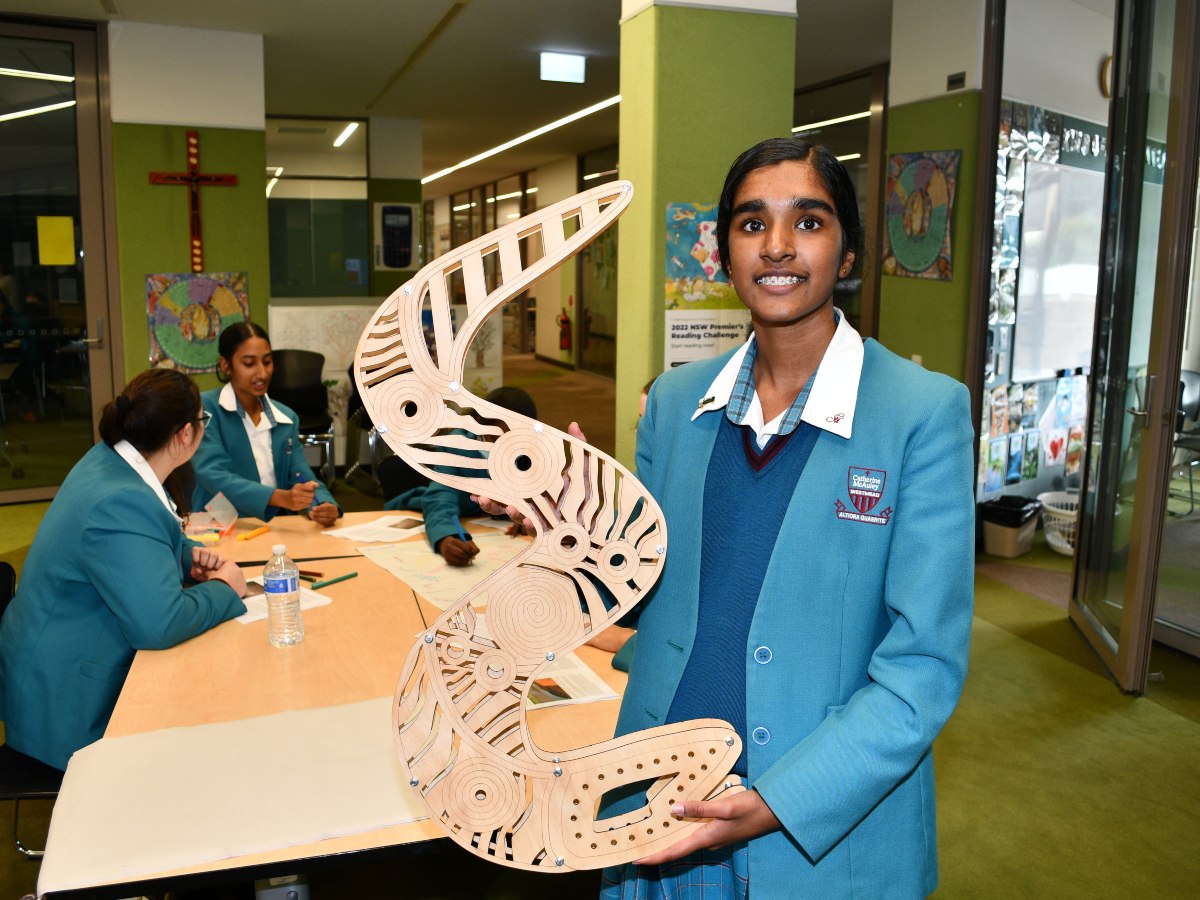 Year 11 student Ashyra with her wooden totem sculpture which has been shortlisted for inclusion in the STEM MAD Student Showcase.
Three Catherine McAuley students have been nominated to represent the Parramatta Diocese at the National STEM MAD Student Showcase to take place in Melbourne in September. Year 11 student Ashyra C. and Year 10 students Shivali S. and Luise V. have been shortlisted to take part and will find out next week if they have been selected.
The STEM MAD (Make A Difference) Student Showcase is a celebration of excellence in Catholic education, in which the nation's best primary, secondary and 'Future is STEM' student teams, nominated by their dioceses, showcase their projects. The event takes place as part of the National Catholic Education Commission (NCEC) conference on Tuesday 6th September 2022. The students will be showcasing their work to conference participants, diocesan representatives, sponsors and affiliated organisations, school communities and fellow students.

Ashyra has been nominated to represent the Parramatta Diocese for her Engineering Studies project in which she has engineered a number of items to link in with the school's current totem project. The Strong Sisters Group (a group of indigenous students at the school) have invited all students to work together to introduce totems.

Ashyra was completing the first unit of her Engineering Studies course, 'Engineering Fundamentals - Communication' which required her to explore how the engineering design process can and is used in our everyday lives and how it can be incorporated into the lives of others. Ashyra is undertaking Engineering Studies as part of 'School of Now' which allows Years 11 and 12 students across different CEDP schools to learn together with an expert teacher. Ashyra was required to engineer a solution that helps a native animal or flora flourish as a totem. The school's totem is the eel so this is the animal Ashyra used in her designs.

Ashyra designed a wooden sculpture of her eel totem, silver jewellery pendants of her design and is currently working on a light sculpture. Her original design was put together after much research on eels and their significance to the Parramatta ecosystem. The lines and other symbols used are all indigenous symbols and together they form the story of how the eel came to be.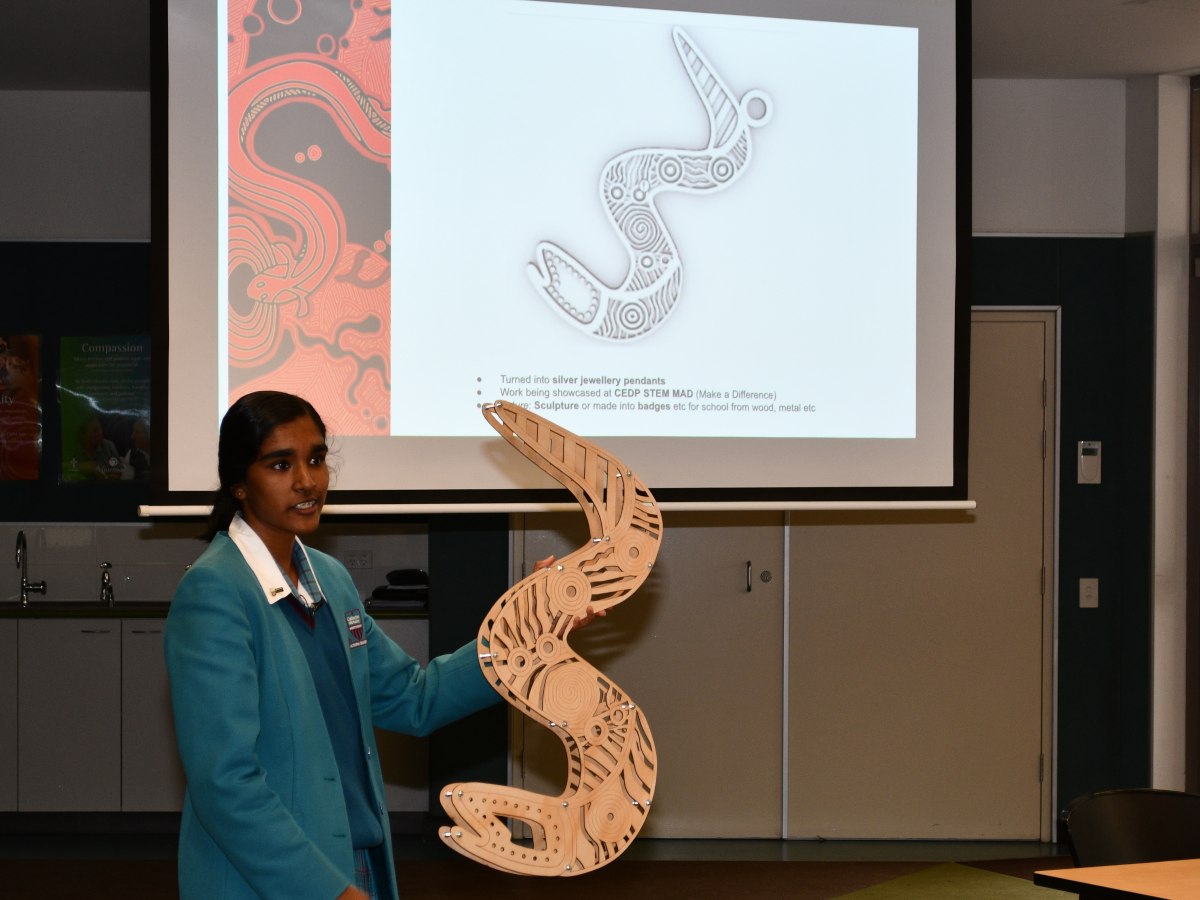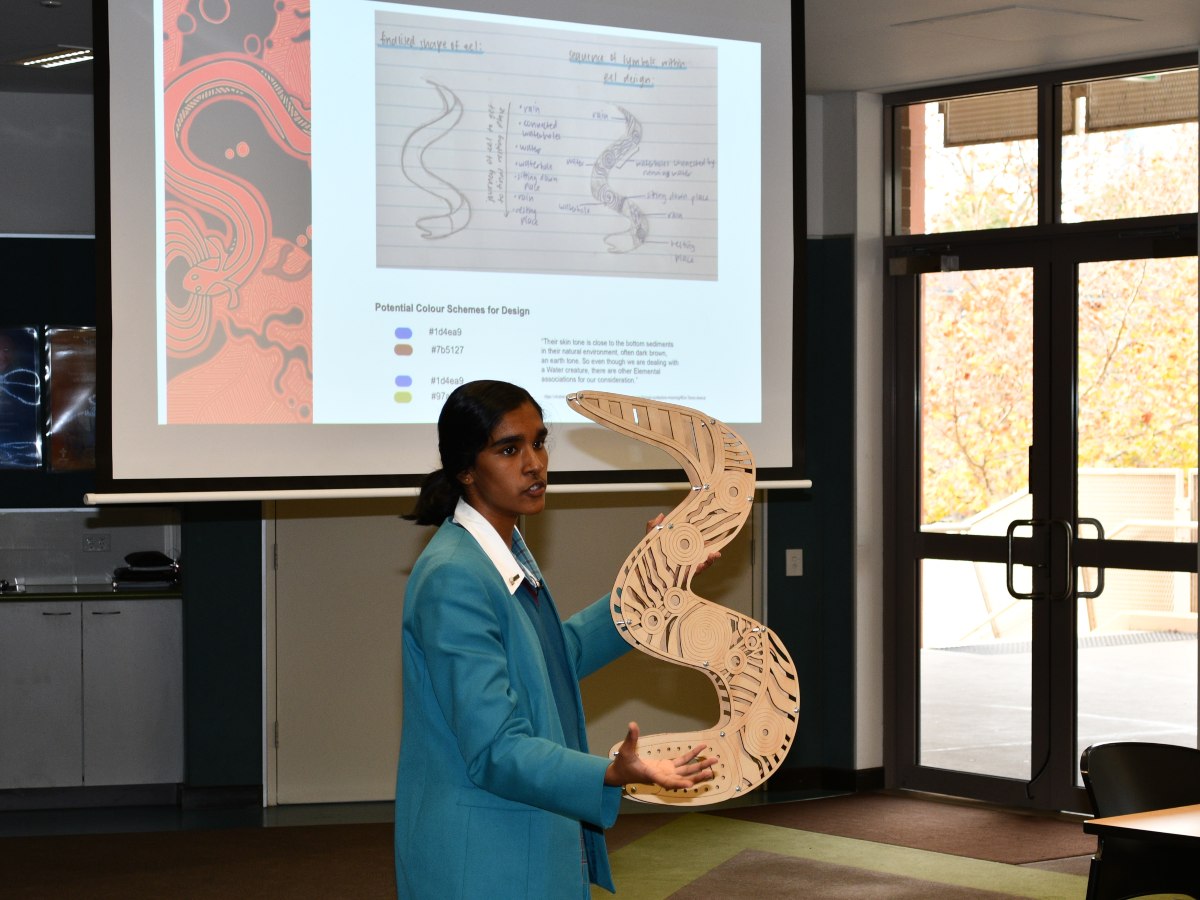 Ashyra explaining her designs to the Strong Sisters Group and fellow students.
The wooden sculpture was cut using a laser cutter and the silver pendants, which have the same design, were created from a CAD drawing which was wax milled (creates a mould) and the silver casted into the mould to make the pendants. Ashyra is currently working on her third component which is a light sculpture. The light sculpture will be a free standing sculpture with the design to be lit using LED lighting and other metals, timbers and opal intertwined to create an art piece.

Ashyra is proud to have her work nominated to represent the Diocese. "I love engineering and I chose Engineering Studies as a subject because I want to go into the engineering field", she says. "I am particularly interested in biomedical engineering because it is a field which can make a positive difference. There may be something someone is struggling with in their everyday life and I can be involved in finding a solution. Every problem can be solved and I want to work in an area which can actually make a difference to someone's life. Everyone deserves to have the same quality of life and this is where biomedical engineering can help".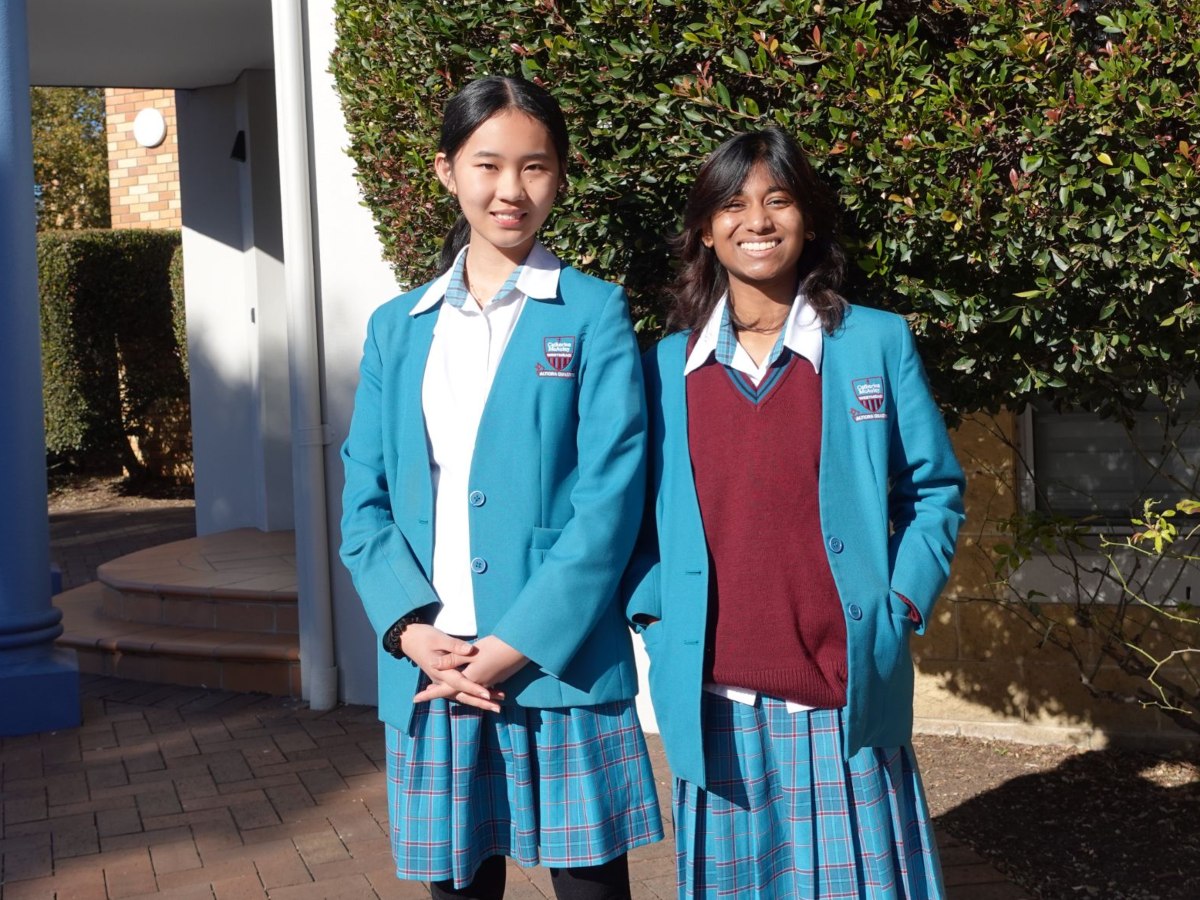 Luise and Shivali, Year 10 STEM Club, have had their work 'ECO AIR' shortlisted for inclusion in the STEM MAD Student Showcase.
Shivali and Luise are Year 10 STEM Club students and they have had their project 'ECO AIR' shortlisted to appear in the Showcase. ECO AIR explores biofiltration and varieties of air-filtering houseplants as a way to improve air quality. "Recently, air purifiers have been introduced into classrooms to help prevent airborne viruses including COVID 19 and although this is a great solution we are concerned that the air purifier itself has a temporary shelf life and, like most electronics, will eventually stop functioning", explains Shivali and Luise.

"Once the air purifier stops functioning it will end up as yet another item of e-waste in landfill. We want to make a difference by improving air quality in classrooms in a sustainable way. This is why we began studying eco-friendly alternatives for air equality after identifying this problem".

Good luck to Ashyra, Shivali and Luise with their nomination.