Smith Family Representative Thanks Student Volunteers
25 Oct 2023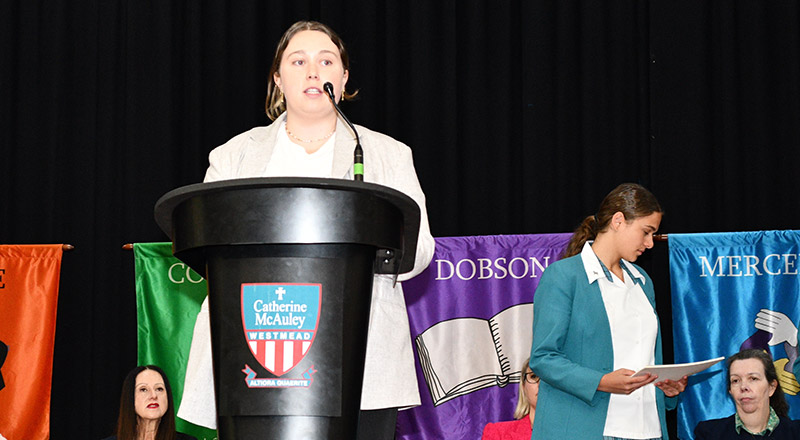 Ms Bec Austin-Payne, a Smith Family representative, thanked the students who had volunteered to be a part of The Smith Family's 'Student to Student Reading Program'
Catherine McAuley has had a number of students volunteer their time each week to participate in The Smith Family's 'Student to Student Reading Program'.
This program sees the McAuley students spend one hour each week reading with a buddy to help and encourage them with their reading. The program is conducted online with the Catherine McAuley students matched with primary school students who are not known to them.
Ms Bec Austin-Payne, The Smith Family representative, thanked the student volunteers in person at the school assembly last week. "For four months of the year these students gave up an hour of their week to help support a reader facing disadvantage", Ms Austin-Payne told the assembly. "The program has a 96% success rate. This means of the over 1500 students who go through the program nationally each year, 96% of them who finish the program come out with a better reading ability than when they came into the program. This is an incredible statistic and shows the incredible job which these buddies do".
"The program helps build the confidence of the young readers and helps them not only reach their reading age but also exceed and thrive in the school environment", said Ms Austin-Payne. "The work of the buddy goes beyond just the reading, it also extends to building a connection and having a bond with the reader to help them with their confidence, their reading and their overall educational journey".
Ms Austin-Payne gave out certificates and badges to the Catherine McAuley student volunteers. "I am very thankful to be here today and privileged to thank our buddies in person", she said.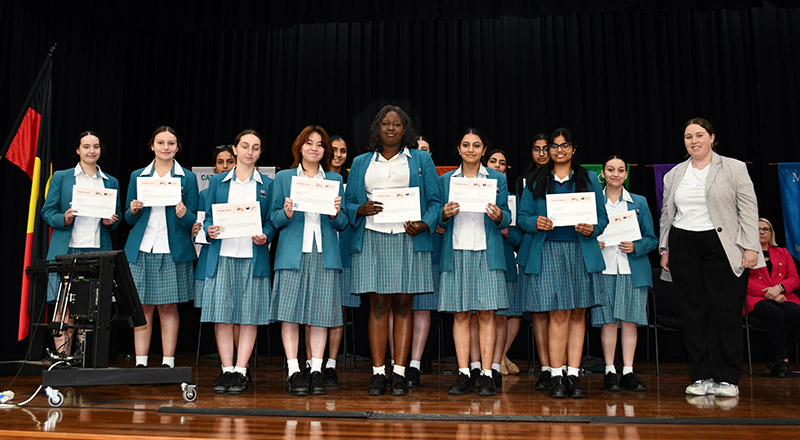 Students who were volunteers for the 'Student to Student Reading Program'