STEM Club Students Take Part in STEM Entrepreneurship Program
07 Sep 2023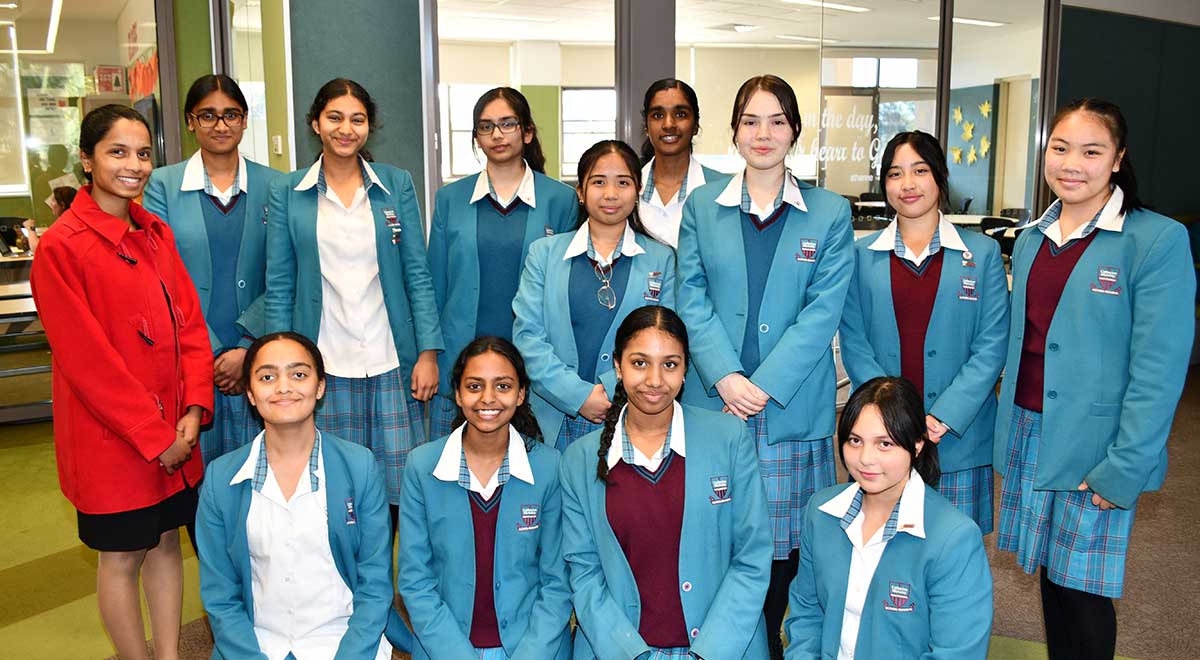 STEM Club students who participated in the Techgirls competition (some students are absent due to exams).
The Catherine McAuley STEM Club recently participated in the annual Techgirls competition, a 12-week STEM entrepreneurship program where students work in teams with a coach and mentor to develop an app which would be relevant to their local community.
The Catherine McAuley teams from Years 9 - 12 focused on issues including first aid education, sleep hygiene, exercise and fast fashion.
Year 12 STEM Club students Arwen-Cady F. and Mary F. have written below about their app aimed to help combat the issue of fast fashion.
Our team's application revolved around combatting fast fashion, and was an online thrifting application that allows users to purchase second hand clothing from one another while simultaneously accumulating points for rewards. The creation of this app occurred both at school and at home, paired with weekly meetings with mentors from STEM-based companies.
The competition taught our team the significance of time management - especially learning to balance personal commitments with school assignments, namely trial examinations, on top of the competition. However, through well executed collaboration and teamwork, our team was able to produce an application and 30 second video proposing the application! We thank Ms Reynolds and our mentor Donna for the guiding and assistance throughout the competition which allowed us to thrive and ultimately succeed!
Student Comments:
I thought the TechGirls Competition was fun but somewhat challenging as it forced us to stick with a timeline and follow it through until the end, not allowing for any shortcuts or laziness!
Arwen
The TechGirls competition was a meaningful opportunity that allowed myself and my team to engage in critical research, as well as apply hard skills such as coding and producing a video for our proposal. Overall, I learnt a lot from this experience.
Mary
Our sleep hygiene app, 'Sleeping Sloth', was designed to assist those who have sleeping disorders or have trouble sleeping. We incorporated features such as music in our app to assist the user in falling asleep. The highlight of the competition for our team was creating our pitch video. Despite the challenges of creating the business plan and the actual coding of the app we enjoyed participating.
Cyrille
Our app, Express Aid, aims to solve the lack of first aid and life skills information. The app features a 'learning mode' to educate users and in emergencies our 'innovative mode' guides individuals to rely on the app to make the right choices, avoiding mistakes without feeling overwhelmed by excessive information
Liya, Nikita and Michelle
We developed an app called 'Less Than 10' which provides users with personalised workouts which can all be done with limited space and less than 10 minutes a day. By creating a program sectioned into weeks we strived to make movement a part of daily life, something people can do with no effort.
Natalia, Rhea, Alfonsa, Gabriella, Amelia