Year 7 Debating Team Runners Up In The CSDA Debating Competition
10 Aug 2023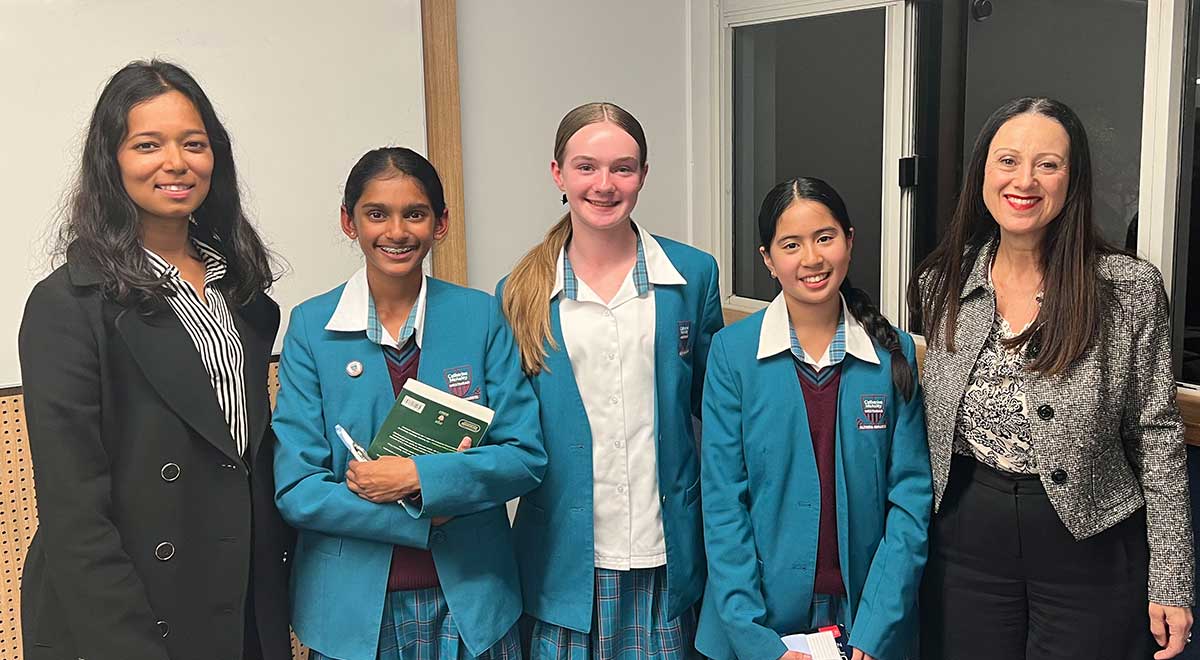 The Year 7 Debating Team - Crystal, Heidi, Jillian and Riya, with Coach Miss Raja and Principal Ms Refalo.
Congratulations to the Year 7 CSDA (Catholic Schools Debating Association) Debating Team who were runners up in the grand final held last Friday, 4th August. The Year 7 Team debated against Parramatta Marist in the final held at Christian Brothers High School.
The topic for the final debate was 'That contact sports should be banned for children under the age of 14' with the McAuley team debating on the negative side. Although the team lost the grand final debate they have placed second out of 82 teams in the Year 7 competition.
Mrs Caroline Howlett, Debating Coordinator, said the team have been outstanding throughout the competition. "In the many years I have been around debating, I have never seen a Year 7 team that was so polished and refined. It is a credit to themselves and their coach".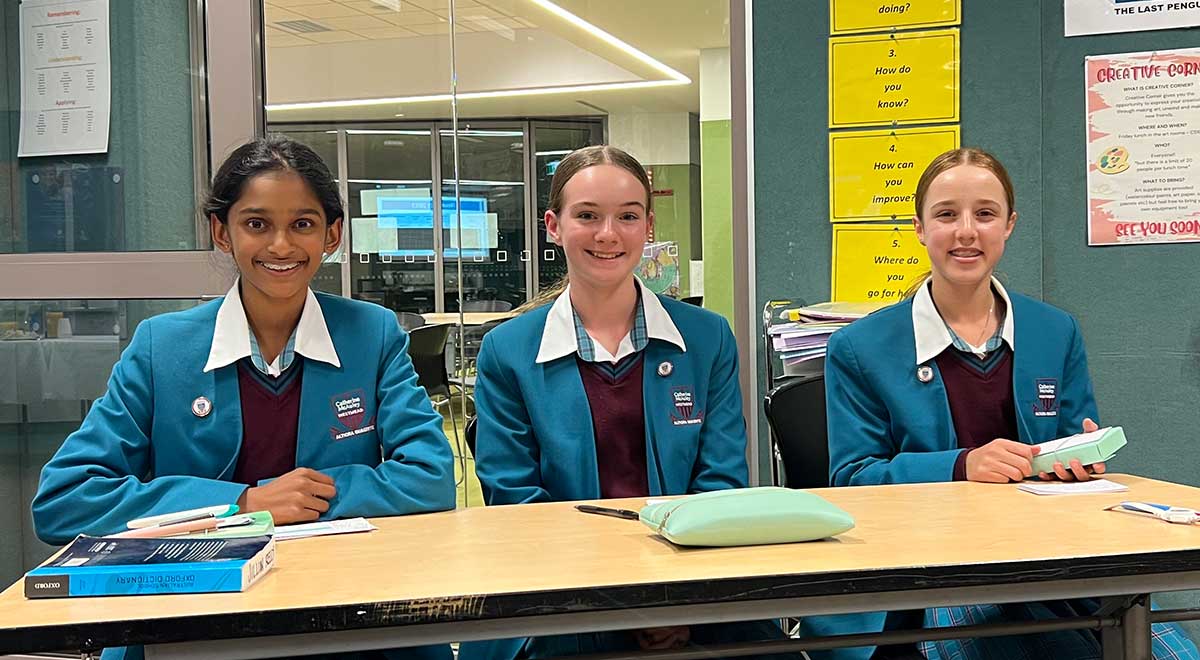 The Year 7 Team Coach was Miss Sangeeta Raja and the team consisted of four members who interchanged throughout the competition. During the regular season they won five out of their six debates and then went on to debate in four elimination rounds before making the grand final.
The Year 7 Team was made up of Crystal M., Heidi S., Jillian D.B. and Riya F. All the Year 7 Team members say that they originally signed up for debating as an opportunity to try something new or as a chance to challenge themselves. They encourage other students to do the same. "Putting your name down for an extracurricular activity and stepping out of your comfort zone is something all students from any grade should consider", says Heidi. "Students may be surprised by how much they learn and grow from the experience. Throughout the debating competition I have conquered nerves and learnt to believe in myself and my abilities and now I know that sometimes things may not be as scary as you believe".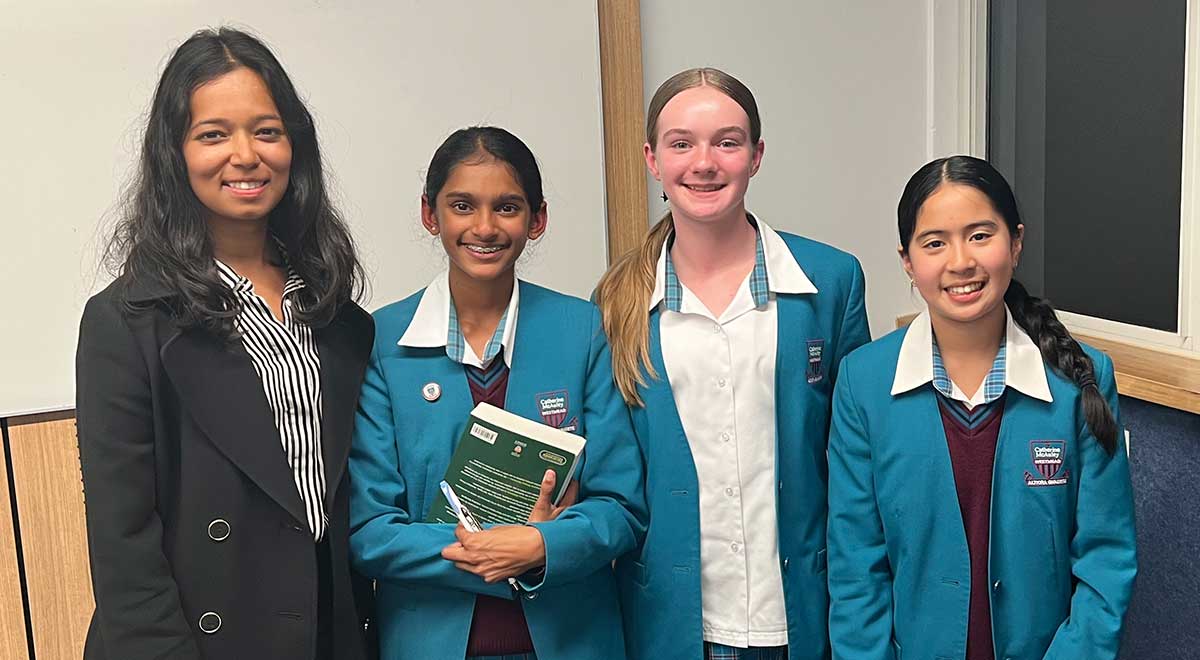 Jillian has similar thoughts and says she will never get used to being nervous before public speaking. "The debating team has encouraged me to become comfortable with the struggles I have to build courage…I now have the feeling of confidence and the mindset that making mistakes is okay".
Finally Crystal and Riya have particularly loved the social aspect of the competition and have enjoyed making new friends. "I wanted to debate so that I could make new friendships and have a great new experience", said Crystal. Riya says she loves to express herself and present her opinion and likes to meet new people. "We have been able to go around to different schools, see how others debate, and meet new people. This season of debating has been incredibly fun and it is the creation of new friendships and presenting my opinion on the case which is why I truly love debating".
Congratulations to the Year 7 Debating Team and well done to all McAuley students who participated and supported the debating competition this year.
08 Sep 2023

Apply for the 2024 Teacher Scholarship Program today. Applications close Monday, 9 October 2023!

06 Nov 2023

This event will allow high school students and graduates the opportunity to have conversations and coaching sessions with experts from their desired field.