2023 Sport for Jove Shakespeare Carnival: Group Devised Performance - State Champions
15 Jun 2023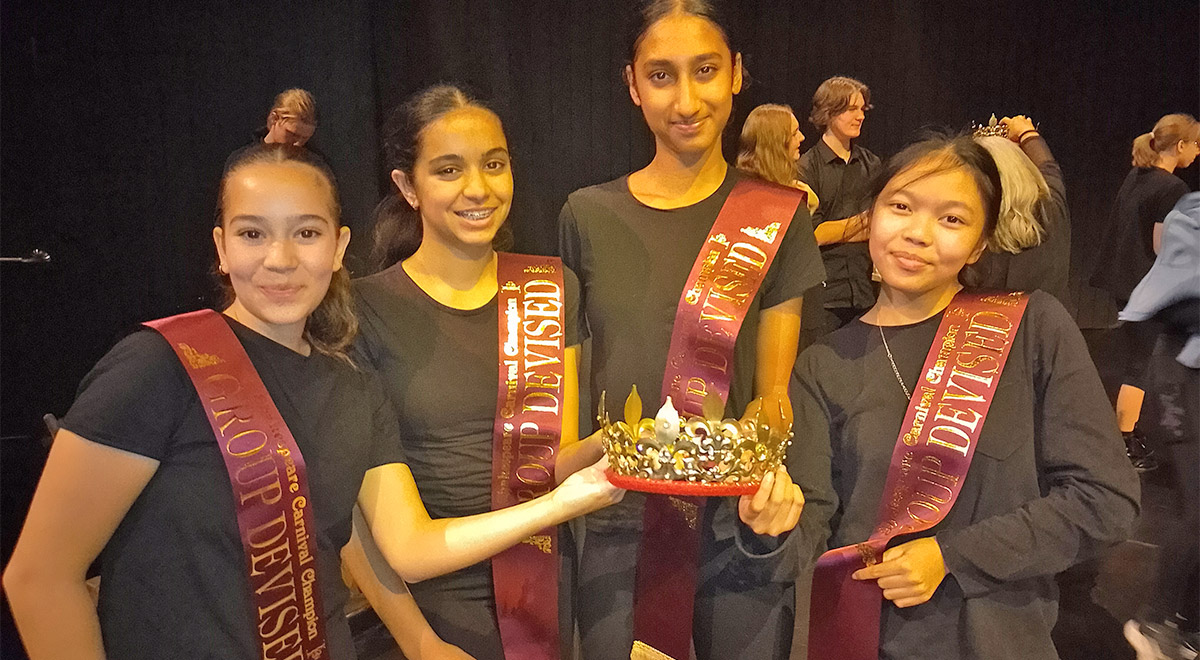 2023 Sport for Jove Shakespeare Carnival State Champions - Karen, Summer, Mischa and Madeline.
A huge congratulations to Year 10 students Karen F, Summer C, Mischa D and Madeline T, for being crowned STATE CHAMPIONS in the Group Devised Performance at the 2023 Sport for Jove Shakespeare Carnival held at the Seymour Centre Chippendale last weekend.
Before moving to the State Final, students won their school based competition, and then their regional competition.
The competition was very strong with dozens of schools in attendance including many from the far reaches of NSW. Sydney based schools included Sydney Grammar, Trinity College, Sydney Girls High School, Sydney Performing Arts Grammar School, PLC Pymble and Abbotsleigh.
The carnival began on Saturday where students had the opportunity to engage in masterclasses with professional actors and directors gaining feedback and rehearsals.
On Sunday, students performed their self devised performance: Obedient / Disobedient.
(The self devised work Obedient/Disobedient explores the complex, emotional theme of Father/Daughter relationships in Shakespeare's King Lear, Romeo & Juliet, The Merchant of Venice, The Taming of the Shrew and A Midsummer Night's Dream. At a time when fathers saw their daughters as property and obedience as paramount, what place does free choice play in a young woman's life? This work was devised and rehearsed through the Captivate After School Drama Ensemble).
As winners at the State Carnival students were crowned with a perpetual trophy crown, a regal trophy which will be displayed at school for the year. They also received a 'Sash of Triumph' to permanently acknowledge their achievement.
We are incredibly proud of the girls.