2022 Students Attend Multi Faith Prayer Service For Climate Change
27 Oct 2022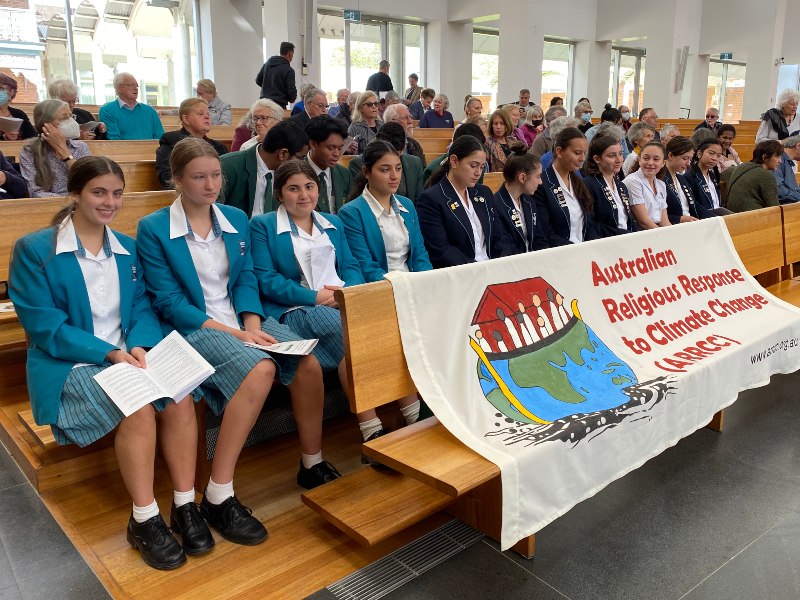 A small group of students attended the recent multi faith prayer service organised by the Australian Religious Response to Climate Change.
A small number of students accompanied Ms Debbie Grigson, Assistant Principal, at a multi faith prayer service held at St Patrick's Cathedral on Thursday, 13th October. Organised by the Australian Religious Response to Climate Change (ARRCC) the service was also attended by students from Parramatta Marist and Our Lady of Mercy College.
Year 10 students Georgia and Angel have each written a reflection below:

The ARRCC is a group dedicated to addressing the issue of the climate crisis in our world and what actions can be taken to help make significant changes. It is a registered charity that was established in 2007 and is made up of many people from different faiths all connected in making influence and practical choices that will positively affect our world.

This multi faith service was held to advocate for the climate crisis response, government policies and cultures that will build a better future for everyone. Many people from many cultures who are elected leaders in relation to climate justice joined in this service, talking and uniting in scripture and prayers from different traditions.

There were many opportunities to learn about various religions and their ties to the land and how important it is in ensuring we are taking care of our world. Congregational singing was a part of the service which included being taught the words of Olam Chesed Yibaneh, which was led by Rabbi George Mordecai. People from the Muslim religion, Buddhism, Judaism and Christianity all contributed in their respective languages as well as Maria Tiimon Chi-Fang from Kiribati who spoke about the effect of climate change in her country and how change needs to happen.

There was participation from our school and from our fellow peers at Parramatta Marist and Our Lady Of Mercy College Parramatta. Many members of the public were also there, including influential speakers who gave much insight into the topics regarding the issues of our world and that we need to use our voices to be heard about what is important right now and for the future.

Overall the service was a very valuable experience which provided me as a high school student to learn about how much the climate crisis is affecting other cultures around Australia, as well as the world. The morning tea after the service provided chances to talk to many people about their thoughts on the climate issue and what they represent as an organisation or one individual. I am so thankful that I was able to have this possibility available to me and feel empowered by the knowledge I gained and the awareness of a deeper understanding I have of these issues in our world.

Georgia Cusbert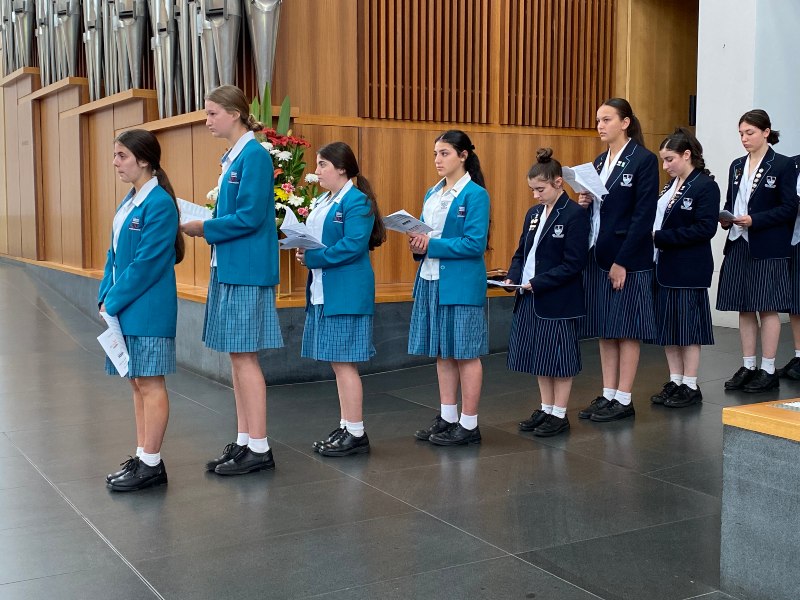 Catherine McAuley students at the multi faith service.
The multi faith service was held by the Australian Religious Response to Climate Change (ARRCC) at Parramatta Cathedral to promote awareness for the environmental struggles of climate change. The Australian Religious Response to Climate Change (ARRCC) is a multi faith network taking action on the most pressing issue of our time. The organisational members include the Union for Progressive Judaism, Anglican EcoCare, Islamic Sciences and Research Academy, Caritas Australia, Federation of Australian Buddhist Councils and Catholic Religious Australia. As an organisation they work together as people dedicated to the common good, inspired by the passion for their beliefs and energised by their spirituality to protect the environment. This organisation has written countless letters and provided crucial evidence to the government to help promote change in the world. From respectful protests, to prayer gatherings, they will continue to fight until change is made.

The service included many different prayers and songs in a range of languages which enlightened everyone at the prayer service. Even though we all come from different places, the earth is all of our homes, we as one humankind are destroying it. A special part of the prayer service was when we were listening to a story from a local from the island Kiribati; she expressed her emotion about her home being destroyed by climate change, parts of her island sinking and the others in ruin. Her story and the prayers from all different faiths enlightened us and the other students present.

As the next generation, it is our duty to make sure their work does not go unnoticed. We must continue to push the environmental movements and keep up the effort to save the earth.

Angel Nasr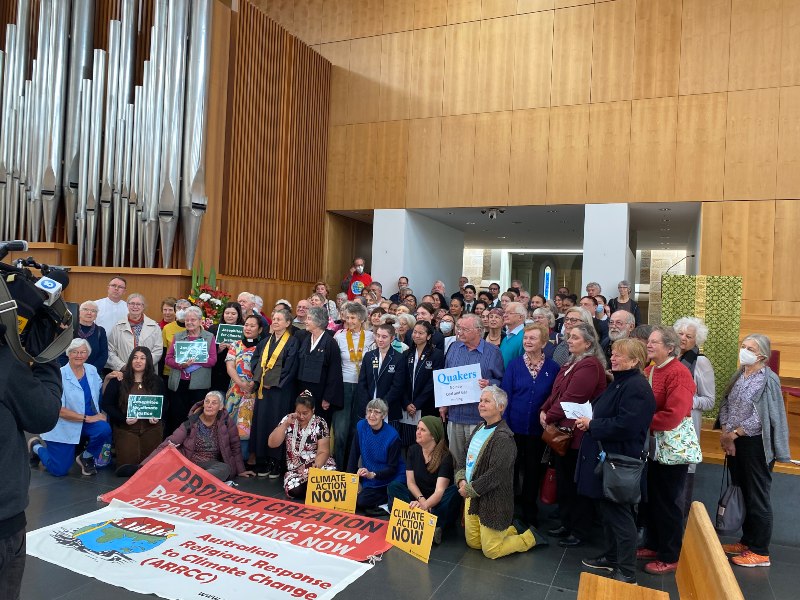 Attendees at the service organised by the Australian Religious Response to Climate Change (ARRCC).