2022 Student Achievements
27 Oct 2022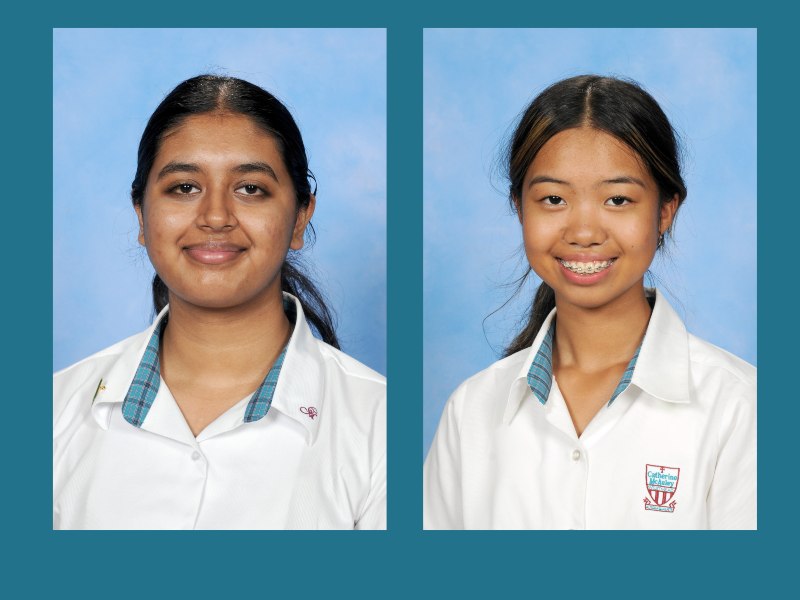 Mya on left and Marie-Claire on right.
Catherine McAuley students excel in so many ways. Some of the recent student achievements that the school is aware of include those below.
Year 11 Legal Studies Student Invited To NSW Schools Constitutional Convention

Mya L., Year 11 Legal Studies student, has been invited to attend the NSW Schools Constitutional Convention to take place on 29th November at NSW Parliament House. To be chosen to attend students had to submit an essay on the following question: The appointment, removal and accountability of Ministers is based as much on convention as law. How can we ensure that Ministers are truly accountable to Parliament and the people, and should we move away from convention to strict legal requirements?

Ms Nicolson, Mya's Legal Studies Teacher, said that the question was a challenging one but Mya's response was articulate and well written. "It was due to the high standard of this essay that Mya was invited to attend this event", said Ms Nicolson. "On the day there will be 30 students chosen to attend the National Constitutional Conference in Canberra next year - we have our fingers crossed for her".

Year 9 Student Achieves Community Instructor Accreditation with Golf Australia

Congratulations to Marie-Claire D., Year 9 who has received her Community Instructor Accreditation with Golf Australia. Marie-Claire is the youngest golf instructor at the age of 15.

The Community Instructor program gives Marie-Claire accreditation equipping her with the skills and knowledge to deliver national participation programs such as MyGolf, MyGolf Schools and Get Into Golf offered though Golf Australia. Congratulations Marie-Claire!