2022 Mercy 6 Schools Keep the Legacy of Catherine McAuley Alive
31 Oct 2022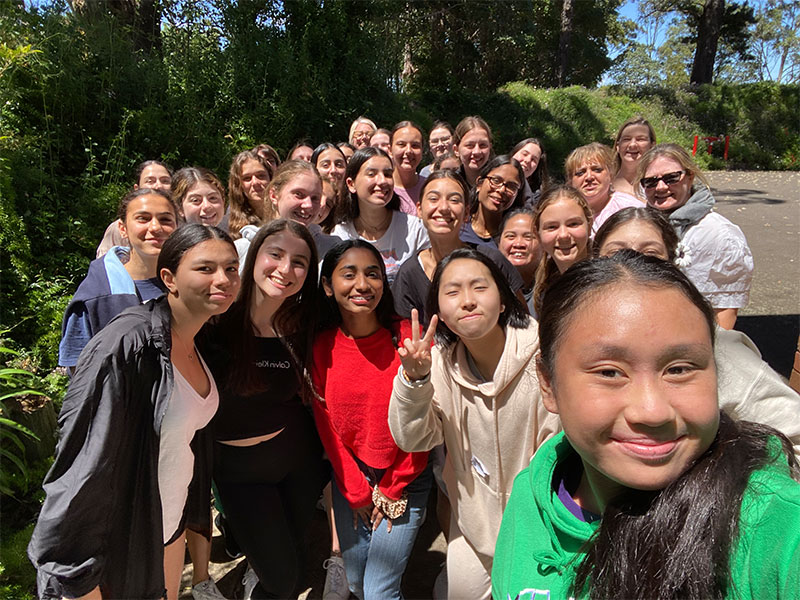 The Year 10 Assistant Leaders of Liturgy, Environment, Hospitality and Social Justice attended the Mercy 6 Eco Justice Retreat last week at the Marymount Mercy Centre, Castle Hill. Ms Shipley accompanied the students at this overnight retreat.
Alyssa A., Lea Z., Amelia C. and Sara E. have written a report on their experience.
The Mercy 6 Eco Justice Retreat has been an eye opening and enriching experience through which we have been enlightened about the significance of eco sustainability, and the power we hold to make substantial change.
Over two days, we explored the connections between Indiginous spirituality and care for the environment by engaging in body prayers, nature walks and group discussions on eco justice. We learnt about Indigenous land practices that have existed for over thousands of years, and how they can be used to regenerate Australia.
We shared pre-existing solutions and potential initiatives to improve sustainability and cleanliness within our school communities. We had the opportunity to begin planning for potential initiatives which we could implement in the future.
On Thursday afternoon we participated in fun team building activities in collaboration with students from four other Mercy schools. We created bracelets using beads which represent the eight mercy values we collectively hold, which will act as a reminder of our commitments made over this time. We then engaged in an intense team game of 'Minute To Win It' and finished the evening with a movie and prayer. This was a beautiful way to end a fun and enlightening day.
We've been so grateful to have this opportunity to collaborate with other Mercy schools, to build bonds across the community and further enhance our understanding of our ecological impacts and how we can manage them.
We would like to thank Marymount Mercy Centre and Sister Margaret for taking such great care of us during our time here. Thank you to Ana and Kate for organising the event. We would also like to thank Ms Banks and Mr Nguyen for organising for us to attend the event. Finally, we would like to say a special thank you to Ms Shipley for accompanying us over the past two days.
---
View and download photos from this event