2022 McAuley Students Collaborate With NSW Australian of the Year Professor Sahajwalla
24 Oct 2022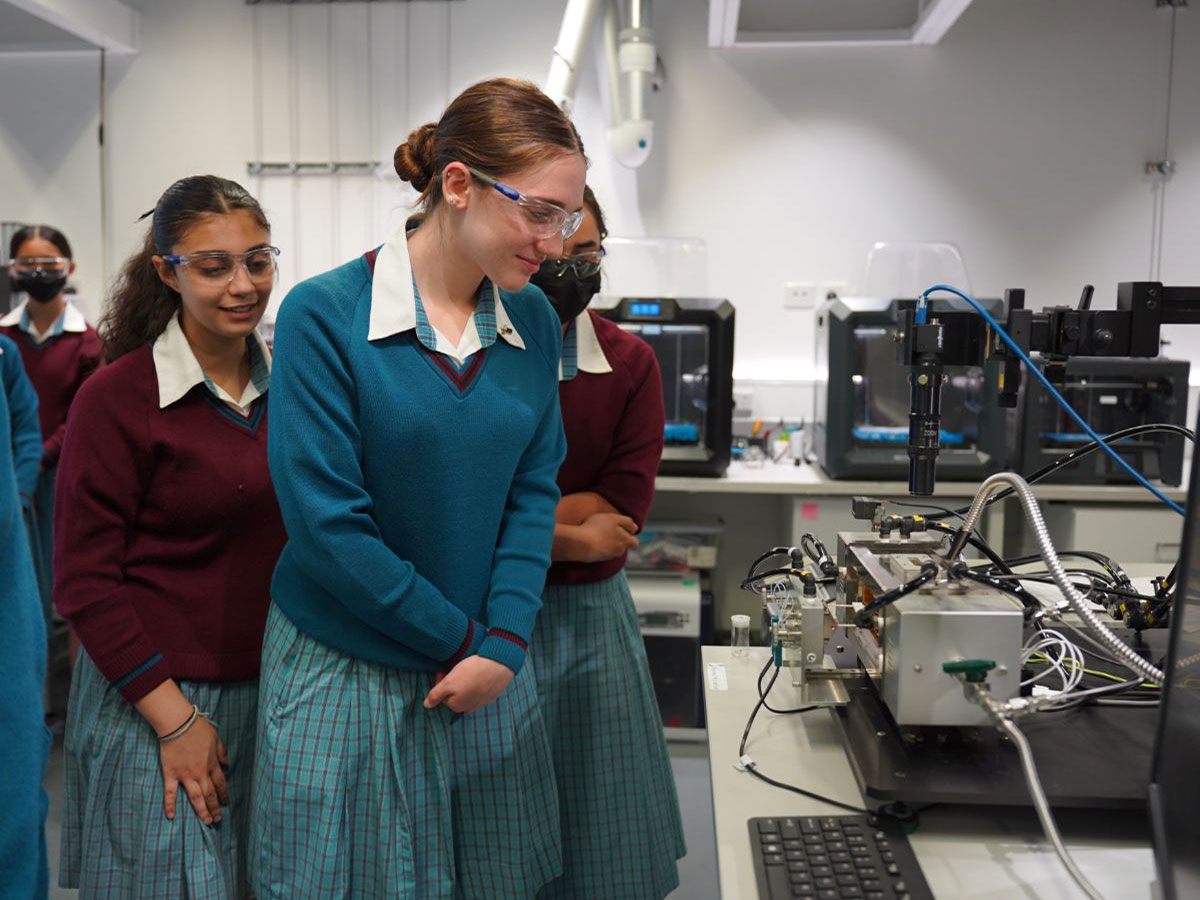 Catherine McAuley students visited the UNSW SMaRT Centre to view firsthand how the face mask recycling is being implemented into making tiles.
Catherine McAuley students have been contributing to the valuable work of Professor Veena Sahajwalla at the University of NSW's Centre for Sustainable Materials Research and Technology (SMaRT) through participation in an innovative pilot project which is seeing used face masks repurposed and turned into a synthetic product.
The school was asked by the Greater Cities Commission, in partnership with the SMaRT Centre, to collect used face masks, by collecting them in special bins located at the school. These face masks are then going to be repurposed and turned into a tile that can be used by students in TAS and Visual Arts classes.
On Monday last week the Student Leader of Environment, Emily Oliver, the Student Leader of Technology, Ashyra Chand and students from the STEM Club were very excited to be able to visit the SMaRT Centre and meet with Professor Veena. Emily Oliver has written about this experience:
Visiting the UNSW SMaRT Centre to see how our face mask recycling is being implemented into making tiles that can be used for a variety of applications, such as tiles for use in TAS, on countertops and as material for mosaics, was amazing. Both myself and Ashyra, Leader of Technology, agreed that it is great to see how technology is able to help environmental issues such as overflowing landfills and e-waste. It gave both of us hope for what the future holds, particularly for our generation and how we can help to make our future more sustainable.
We had the opportunity to meet Professor Veena Sahajwalla, the 2022 NSW Australian of the Year, who is heading up this waste recycling project. She gave us an insight into how solutions to the issue of landfill are already being created and implemented. For example, the UNSW SMaRT Centre turns e-waste into 3D printing filament! Professor Sahajwalla reminded us that the way everyone cares for the planet is so important and that our future requires STEM skills. She told us that "it is a fantastic project to be a part of and a great collaboration to be joining with students like us who care about our future".
---
View and download photos from this event