2022 Year 8 Students Compete in Lions Youth of the Year Public Speaking Competition
18 Aug 2022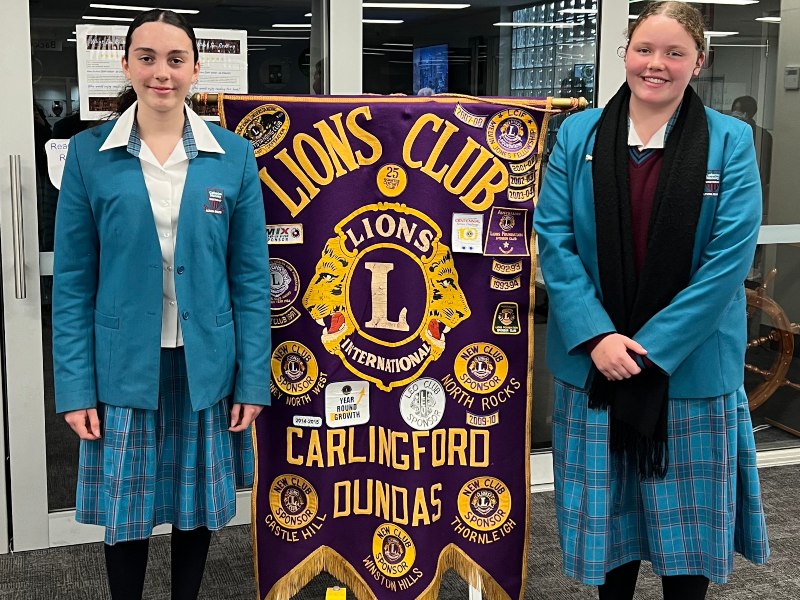 Amelia and Erin competed in the Lions Youth of the Year Public Speaking Competition on Monday, 15th August 2022.
On the evening of Monday, 15th August, two Year 8 students - Amelia Anthony and Erin Malone, participated in the Lions Youth of the Year Public Speaking Competition held at Parramatta Marist.
This competition encourages local school students from Years 7 or 8 to develop confidence and experience in public forums. There were two parts to the night with students required to present both a prepared speech, as well as respond to an impromptu question given on the night.

The impromptu question was "What do you think is the biggest threat to the health of our planet?" In front of an audience of some 50 people, and a panel of judges, Erin spoke admirably about the damaging nature of single-use plastics and Amelia spoke passionately of humans and their destructive practices.

Following the most nerve-wracking part of the evening, both girls then presented their prepared speeches which coincidentally had a common theme - feminism. Erin chose the topic 'If I was born 100 years ago…' and took us on a trip back to the 1920s, outlining the rise of the feminist movement and the opportunities she herself would have seized in that day and age. Amelia chose to speak on space colonisation and advocated for greater female representation in the space industry.

While the girls did not place, they spoke with such passion and confidence and were both commended for their insightful presentations.