2022 Year 11 Students Are Stepping Up
14 Sep 2022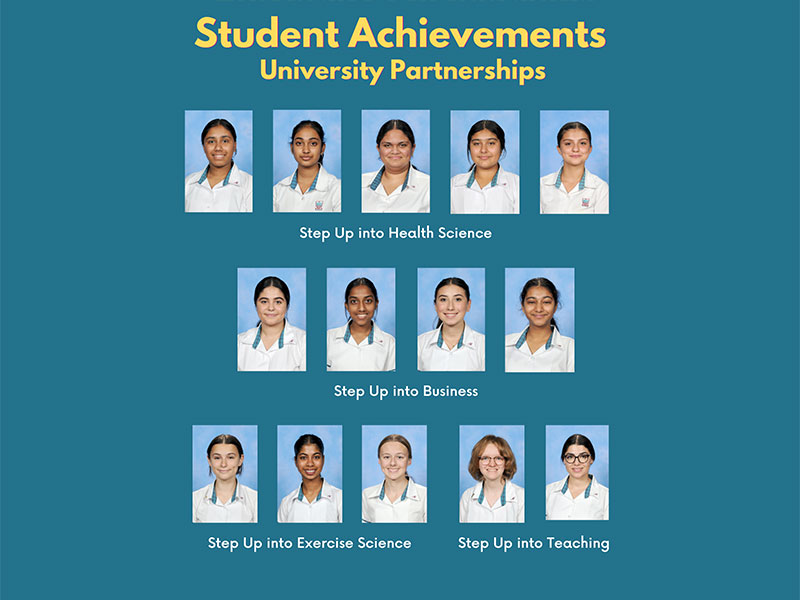 Catherine McAuley partners with a number of universities to allow students to begin their university studies early. The Australia Catholic University (ACU) Step Up Program is one of these partnerships.
Students involved have a head start to university by completing two university subjects in the September and January school holidays. There are currently 15 Year 11 students (only 14 photos shown) participating in the ACU Step Up Programs in Teaching, Business, Health Science and Exercise Science. Ms Amanda Chahine, Careers Adviser, says that "successful completion of these subjects, offered free of charge, will enable the students to obtain credit if they choose to study at ACU. The students may also be eligible for an unconditional direct offer to the corresponding course".
Ava D.C. is one of the Year 12 students who has completed the Step Up Program for Teaching. "I love that I have been able to meet lecturers and go to the ACU campus at Strathfield to start completing some units of my teaching degree. The chance to start experiencing uni life whilst still in high school has been invaluable", Ava says. "I decided to apply for the program because I want to teach young children in the future and I love that I can complete two units now and won't have to do them again once I do attend the university".
Teagan B., Year 12 has also started her teaching degree though the Step Up Program. "I have started a Bachelor of Education in Secondary and Sport and Exercise Science. I chose this because it interests me and the really good PDHPE teachers I have had here at McAuley have motivated me to become a PE teacher".
"I would recommend other students consider the Step Up Programs because it gives them the chance to try out university before actually entering. You are able to get used to it before everyone else starts", Teagan says. "I will already know my way around the campus, what the lecturers are like, what to expect from assessments and of course I will get credits so I don't have to do that subject once I start which will give me extra time".
Congratulations to the 15 students who have been accepted into this program.