2022 Students Attend The Mercy 6 2022 Conference
06 Apr 2022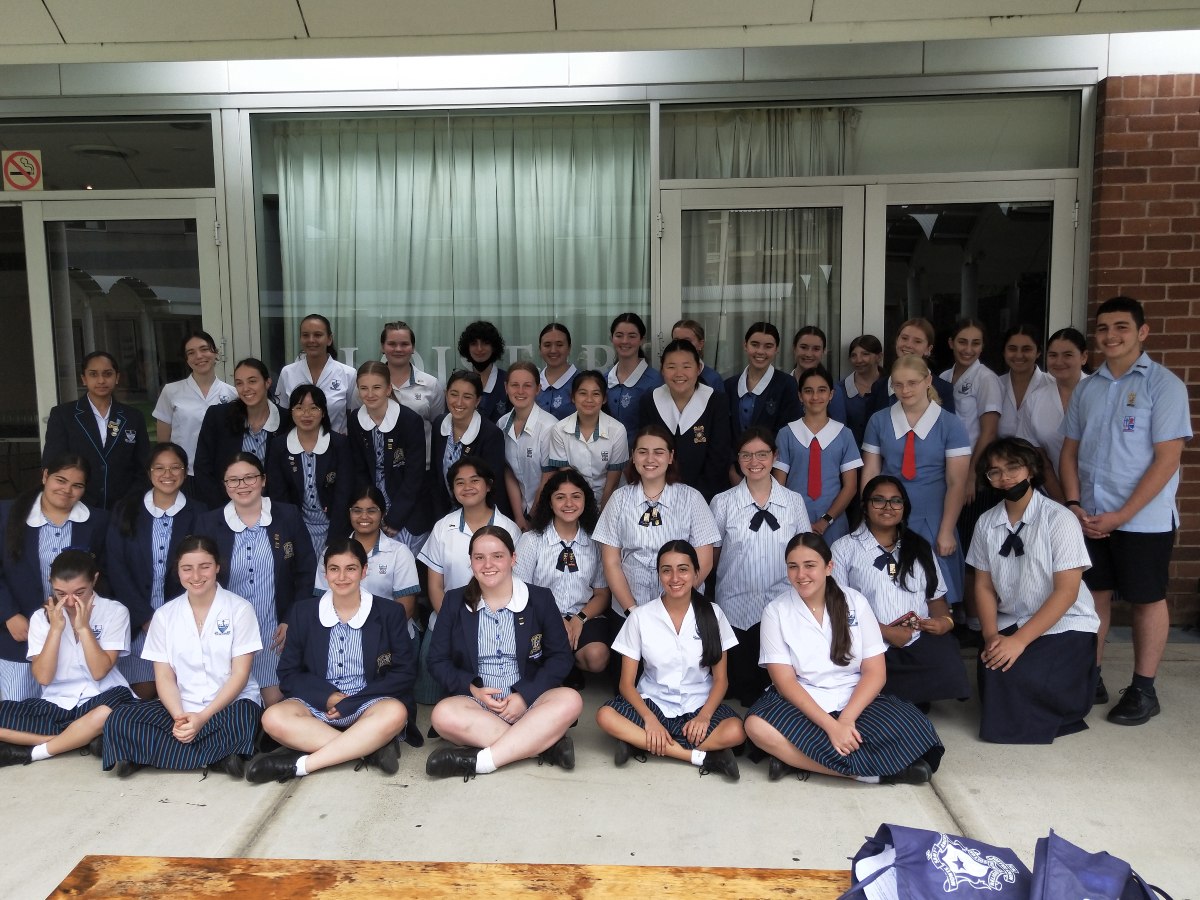 The Year 10 MAG Leaders and the Year 11 Assistant Liturgy Leader attended the Mercy 6 2022 Conference on Wednesday, 23rd March. The students were accompanied by Mrs Lowrencev, Mercy In Action Coordinator. The students have written the following report:
The Mercy 6 Conference was attended by representatives from the six Mercy schools in Sydney - Catherine McAuley Westmead, Our Lady of Mercy College Parramatta, Our Lady of Mercy College Buraneer, Emmaus Catholic College Kemps Creek, Monte Sant Angelo Mercy College North Sydney and Mercy Catholic College Chatswood. We had the opportunity to be involved in the initiatives of Mercy Works, and be inspired by the acts of mercy within our global community. The conference was central to the theme of advocacy, in which guest speakers from different foundations and organisations presented inspiring and insightful projects and anecdotes to the cohort.

We learnt about advocacy for the marginalised and the issues they face that continue to perpetuate disharmony and discrimination. Issues such as water wastage, homelessness, human trafficking, refugees and pollution were topics that were especially focused on, as well as the prevalence of the decline in humanity's care and the visibility of others. As these issues revolve around the significance of each individual's inherent dignity, we delved deeper into the root of these issues and their impact.

As students, family members, loved ones, and friends, it is important to acknowledge our privilege in being able to access education, adequate shelter, food and essential services. Marginalised communities like those impoverished in Papua New Guinea are deprived of these rights and essentials, which not only prevent survival, but meaning and purpose too. Mercy Works Australia helps deliver portable water to places in PNG that are water-deprived. It is evident that the absence of adequate provision of essentials indicates our world's lack of consideration and attention to those in need, as there is a priority in giving services to those who can afford it rather than to those who need it. Unequal distribution is a core factor that results in the impoverishment of communities and reinforces the ignorance that occurs within governments and systems that prioritise things like money over the well-being of humanity. This is also relevant to the exclusion of refugees, in which governments and nations refuse to provide their services and care. It highlights the lack of compassion that powerful systems claim to abide by.

No matter how scary these issues are, it is important to recognise our collective strength in combatting discrimination and marginalisation together. Guest speakers from the conference accentuated that change is best brought about by collaborative effort and action, and that Christian vocation is an epitome of this. Described as an evolutionary vocation, it is all about building community and acting together in being advocates, in which we amplify the voices of the marginalised. We learnt about the Mercy Response: to accompany, to assist, and to advocate. Central to this advocacy is the question 'Why?' - this is vital in discovering the fundamental reasoning as to why we serve and why these problems occur. Finding the roots is where action can begin and change can be brought about.