Opening School Liturgy of the Word and Commissioning of Student Leaders
06 Feb 2022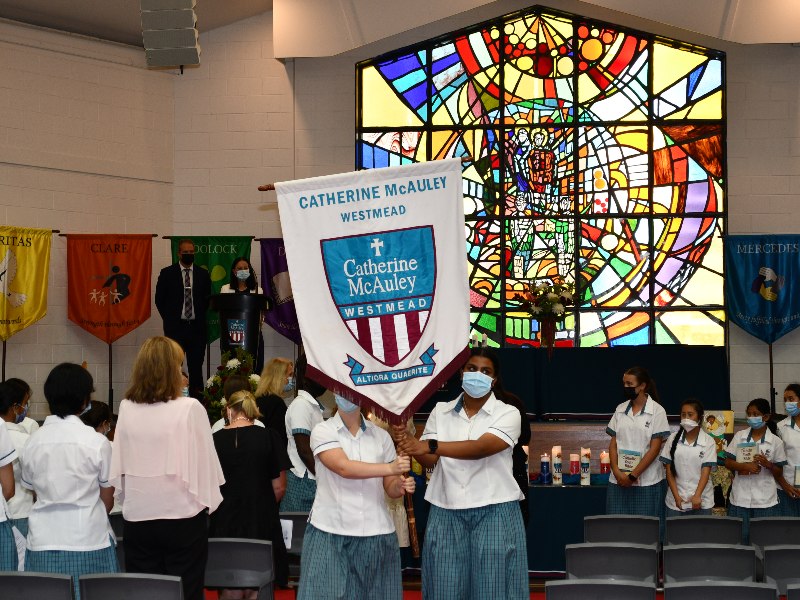 On Friday, 4th February the school celebrated the beginning of the school year with our Opening School Liturgy of the Word and Commissioning of Student Leaders.
Rev. Fr Walter Fogarty, Coordinating Pastor, Westmead Catholic Community, celebrated the Liturgy with the school today and we also welcomed Sr Margaret Jones, Councillor representing the Leadership Team of the Sisters of Mercy Parramatta and Sr Barbara McDonough, Past Principal.

Year 7 students, their Homeroom Teachers, and the Year 12 and 11 School Leaders attended the Liturgy held in the Morley Centre whilst the rest of the school community watched the live stream from their Homerooms.

The Liturgy began with the lighting of the school candle by School Principal Ms Refalo and School Captains Victoria and Zara, followed by the lighting of the candles for each Year group.
Year 7 students were presented with both their Year 7 House badges and school bibles at the Liturgy. The Year 7 students, and all new students present in their Homerooms, were invited to stand and make their act of commitment:
"As we begin our journey of faith, knowledge and service we ask the Catherine McAuley community to nurture and guide us so that our lives will reflect "the love of Christ".

The Year 7 candle was lit for the first time by Mrs Kempys, Year 7 Coordinator and Year 7 student Johanna D. Following the presentation of their school bibles the Year 7 students were joined by the new staff in attendance and came together to form a Circle of Mercy around the Morley Centre.