McAuley Has Talent!!
14 Nov 2023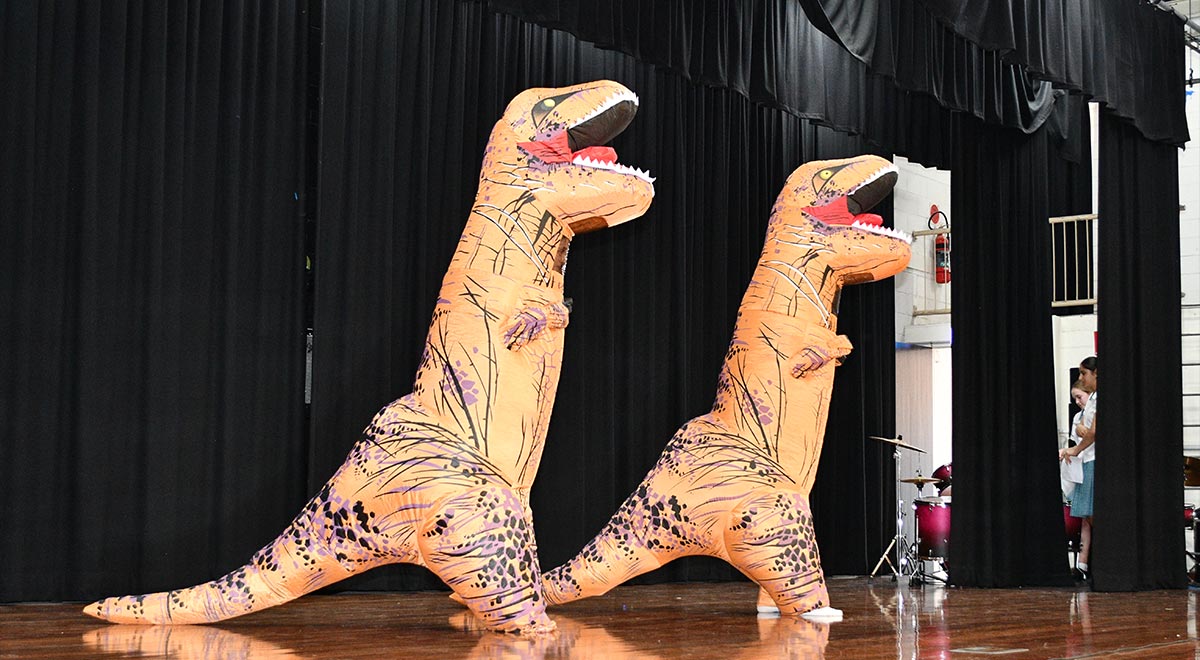 Year 8 students Charlotte and Annabel performing 'Dino-Rock' at the McAuley's Got Talent event.
The annual McAuley's Got Talent talent quest was held last Friday afternoon and was an afternoon of fantastic performances by students, and a surprise staff act at the end.
Students donated a gold coin to watch the final, and had done the same for the heats, with $2,130 raised which will go to the Jesuit Refugee Centre in Parramatta.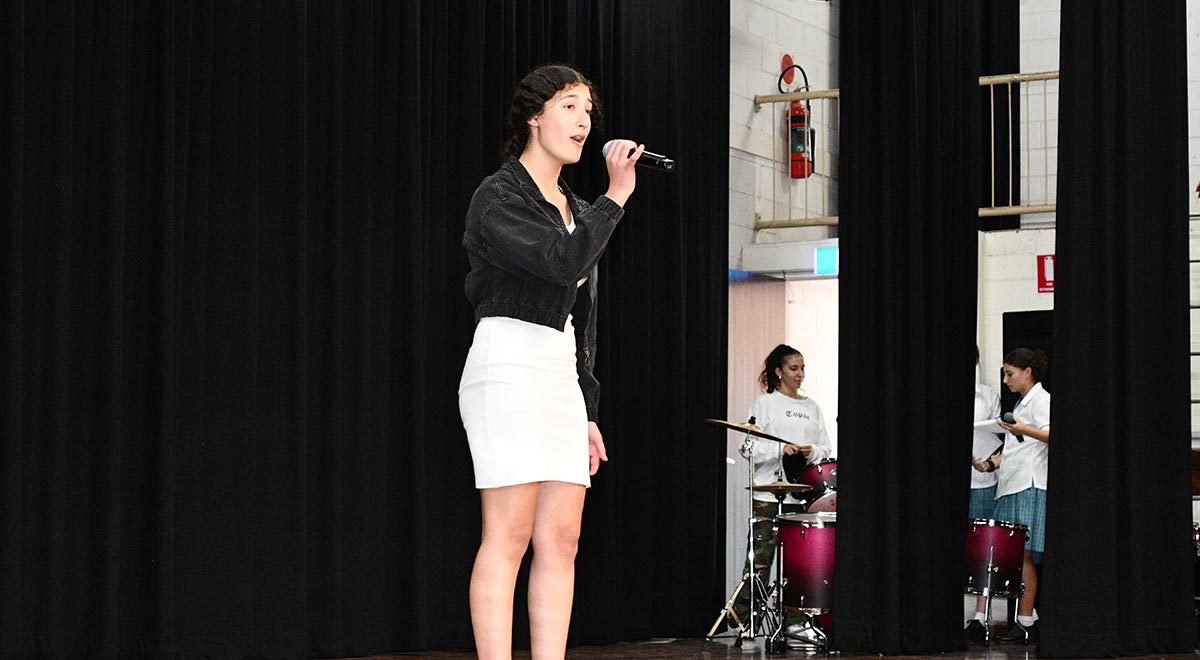 First place was awarded to Year 10 student Sophie B. who performed 'I Have Nothing' by Whitney Houston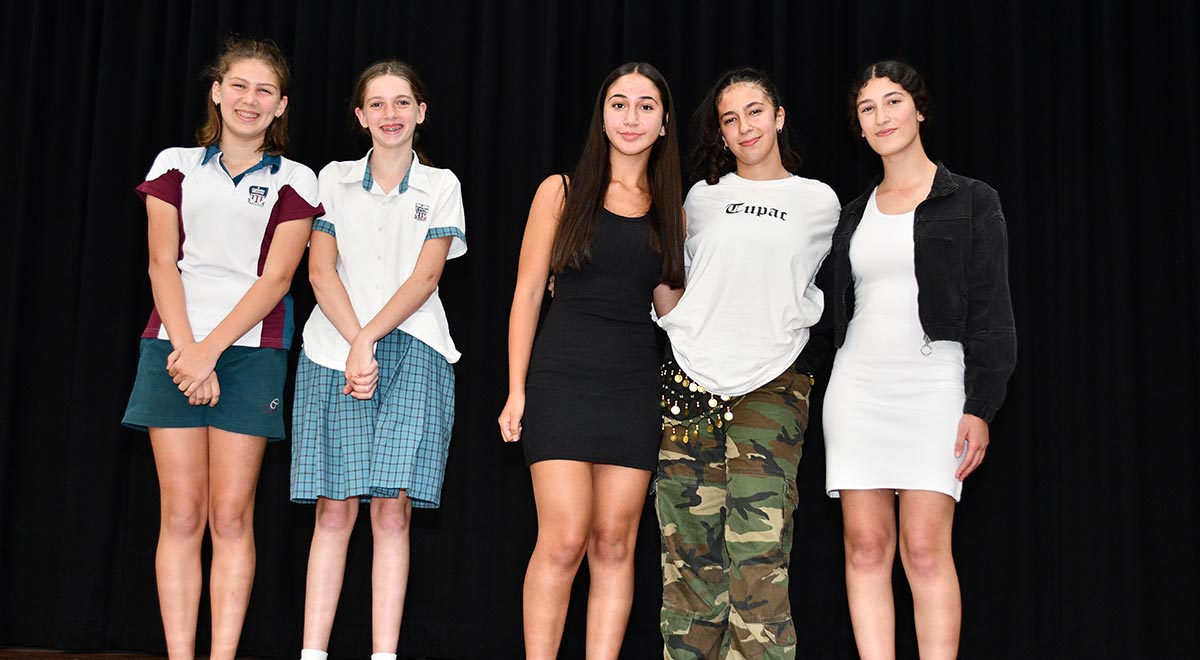 The winners of the 2023 McAuley's Got Talent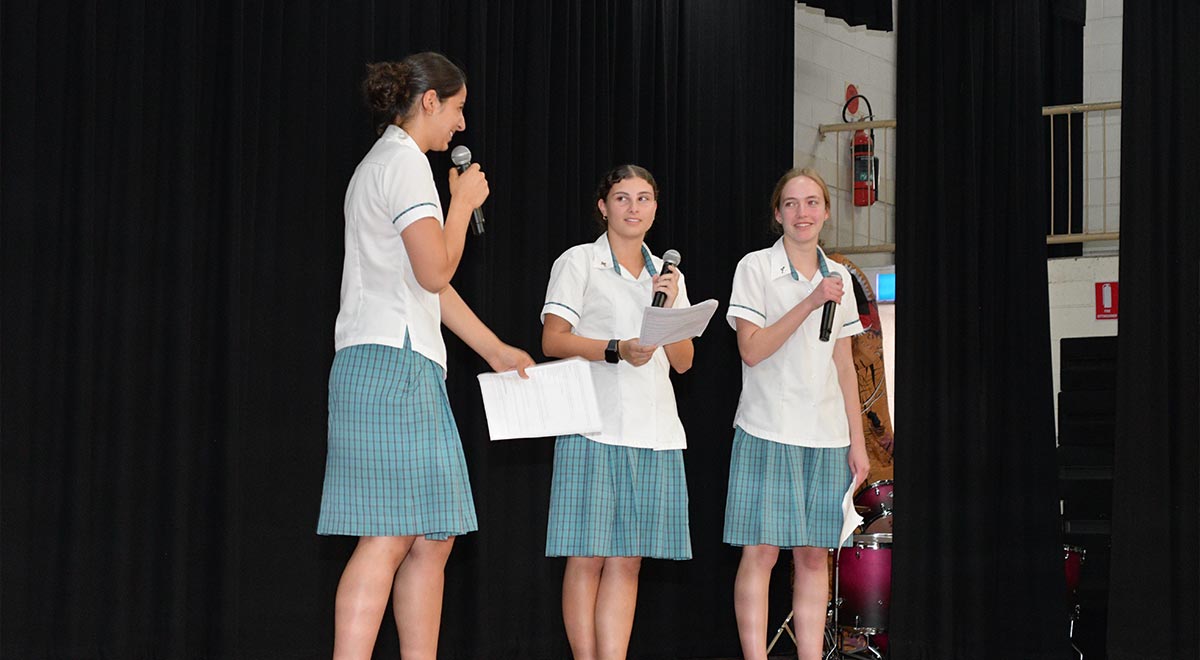 The House Leaders of Coolock, Caritas and Veritas acted as MCs for the event
Congratulations to all students who were chosen for the final after participating in the round of heats over the past few weeks. The judging panel consisted of Ms Refalo, School Principal; Ms Eva Radisavljevic, PDHPE Teacher and former student of Catherine McAuley and Alyssa A. and Lea Z., School Captains.

Representatives from JRS attended the talent quest as special guests and were welcomed by House Leaders Rihana, Ava and Angelina
Ms Refalo said she was impressed by the level of talent on display and that the event was a great afternoon for all. She thanked the Student House Leaders Rihana (Veritas), Ava (Caritas) and Angelina (Coolock) for doing a fabulous job acting as MCs and Ms Refalo asked the House Patrons Ms Smith, Miss Hogan and Ms McGlone to come to the front of the school and take a bow for all their hard work organising the heats and the final.
1st Place
'I Have Nothing' song performance - Sophie B., Year 10
2nd Place
Hip Hop dance solo performance - Temika J., Year 11
3rd Place
'Love in the Dark' song performance - Olivia El N., Year 8
Highly Commended Award
'Dino-Rock' dance - Charlotte J. and Annabel H., Year 8
"Well done to everyone involved and well done to the audience and teachers", said Ms Refalo. "What a great way to finish the afternoon!"
The Jesuit Refugee Centre in Parramatta is part of the Jesuit Refugee Service (JRS), an international Catholic organisation who has as their mission to accompany, serve and advocate for the rights of refugees and other forcibly displaced persons.
Their services include providing affordable housing for people seeking asylum, English classes, home visits, legal advice, a food bank and social support activities.