Mercy In Action Students Attend Social Justice Statement Launch
25 Oct 2023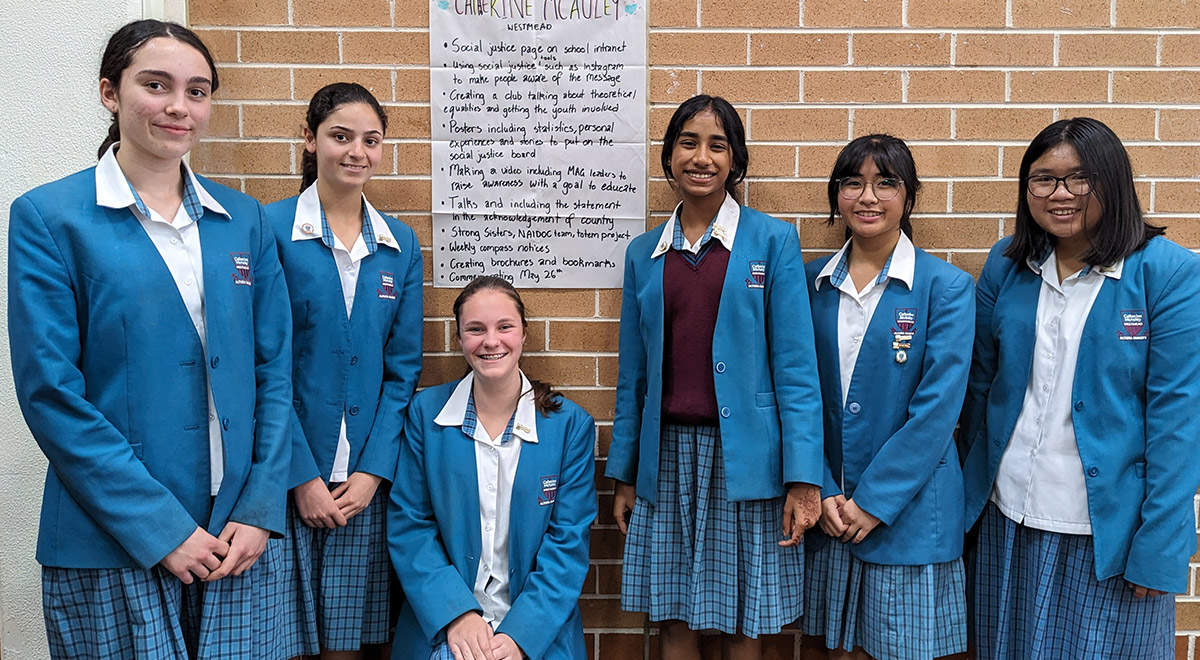 Year 9 MAG students who attended the launch of the Social Justice Statement 2023 - 2024
On Wednesday last week the Year 9 members of the Mercy in Action Group (MAG) were invited by the Catholic Schools Parramatta Diocese (in partnership with the Diocese of Parramatta Mission Enhancement Team) to attend the launch of the Social Justice Statement 2023 - 2024.
The Year 9 students joined other students from across the Diocese and student Aaliyah has written the report below:
The Social Justice Statement for 2023 - 2024, 'Listen, Learn, Love', examines the injustice with First Nations peoples.
Guest speakers at this event, held at Our Lady Of Lourdes Primary School in Seven Hills, included Most Rev Vincent Long OFM Conv, Bishop of Parramatta and Mr Jack De Groot, Executive Director of Parramatta Diocese Schools. They both spoke of the importance in empowering the voice of all people no matter their race or beliefs. Bishop Vincent said that as Christians we are called to create "a society that mirrors God's reign". This means that we must love everyone just as God loves all his creations equally, who are created in his image and contribute different talents.
I connected with the painful stories of Indigenous people which I heard at the launch and believe that the Social Justice Statement 'Listen, Learn, Love' can create a more united and strong community where justice can be met and we can learn from our mistakes and instead love.