Year 12 Student Leaders Attend International Women's Day Breakfast
16 Mar 2023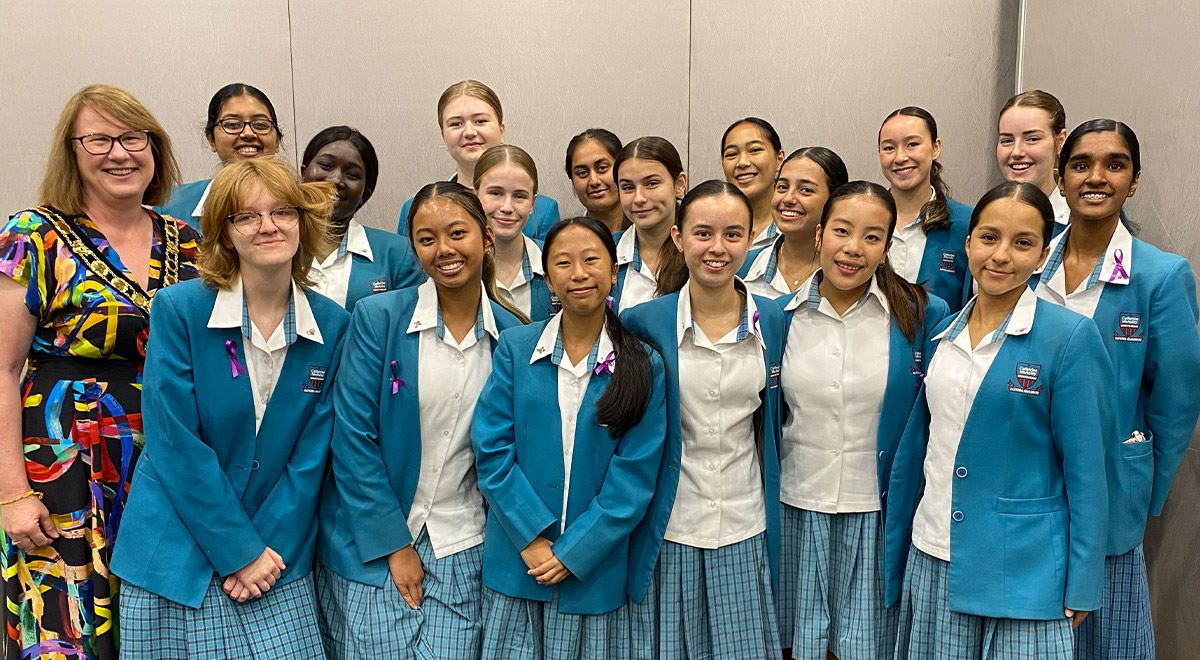 On International Women's Day, 8th March, the Year 12 Student Leaders and Student Representative Council representatives, attended a breakfast hosted by the ZONTA Club of Sydney Hills. Year 12 students Simone and Claudia have written an article about this experience.
The theme for this year was 'Cracking the Code: Innovation for a Gender Equal Future'. The theme examines striving to work towards a more inclusive and comparable future, whilst honouring all women, no matter their race, background, culture or socioeconomic status.
During this event, we heard from several guest speakers, such as the Lord Mayor, City of Parramatta Cr. Donna Davis and Mayor of the Hills Shire Council Cr. Dr Peter Gangemi, both of whom spoke about the importance of International Women's Day; especially since there is a stark disparity in women's involvement in STEM workplaces compared to men.
The Keynote Speaker was Dr Jennifer Mathews, a Postdoctoral Research Fellow at the University of Technology Sydney. Dr Mathews spoke of her endeavours in becoming a coral expert and conservationist, as well as her experiences as a woman in STEM. She has pioneered vital research that has advanced the fields of coral reef symbioses and marine metabolomics.
Her advocacy for equity within STEM and role as Deputy Team Leader of the Future Reefs Research Program at UTS, enabled us to be inspired by her passion for science and ability to overcome challenges. Catherine McAuley student leader Sophia P. commented on the experience by stating, "What I learnt from Dr Mathews was that we need to change the end of sentences, rather than saying, 'I cannot achieve this' tell yourself, 'I cannot give up'."
During this event, the salient symbols presented included a Zonta yellow rose and a purple ribbon. The former marked a time of reflection on this auspicious occasion. To pay tribute to and commend the work of every strong woman within the community, who offer great inspiration through their actions and words alike.
The latter, the purple ribbon - which was gracefully adorned with pride by all present, signifies solidarity, justice, strength, and dignity. The ribbon showcases unwavering faith towards the cause that unites us as a global society; the cause of pioneering for equal rights and acknowledgement of women in a diverse and multifaceted society.
The sheer gravity of partaking in this experience, and communicating the importance of International Women's Day, has been conveyed by SRC Leader Isabelle, "The importance of International Women's Day cannot be overstated.
It's an opportunity to recognise the past success and future endeavours of women, seeing how far we have come and just how much potential we have! It was an amazing opportunity to view the array of drive, ambition, and endless talent women possess, as it is an incredibly empowering thing."