School Gathers To Celebrate The High Achievers From The Class of 2022
16 Feb 2023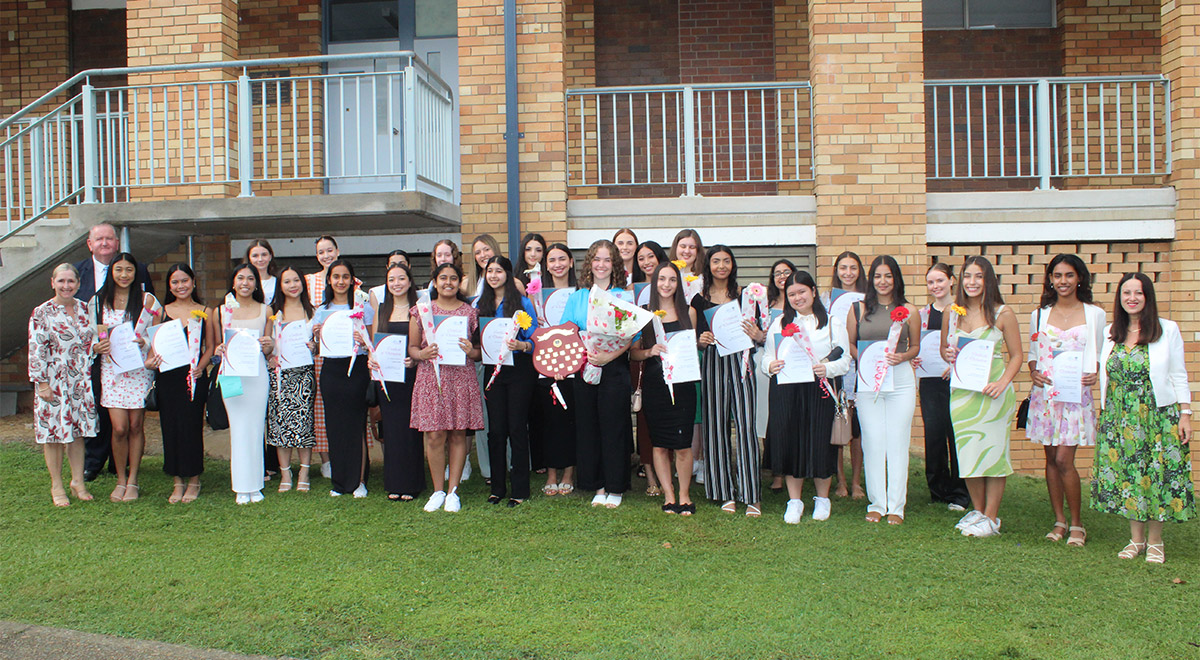 Catherine McAuley students, staff and parents from the Class of 2022 gathered together in the Morley Centre on Wednesday, 15th February to celebrate the success of the Class of 2022 in the Higher School Certificate exams.
Each of the returning students who attended had achieved an ATAR of 90 or above, placing them in the top 10% of the State. Victoria Carr, the highest placed student from the Class of 2022, ranked in the top 1% and was named as an 'All Rounder' receiving the NSW Premier's Award for All Round Excellence. This award is awarded to those who achieve a Band 6 in at least 10 units. Seven students in the cohort were named as 'Top Achievers', placing in the top 10 of their course.
Mr Michael Hall, Assistant Principal, told the assembly that while the focus is on the high level of success of the high achievers the school acknowledges the accomplishments of the whole class of 2022. "73 students were named on the merit list meaning that they achieved a Band 6 result in at least one of their courses", he said. "A significant number of the year group have been offered a place at university or TAFE and 52% of all exams undertaken had results in Bands 5 and 6. This demonstrates the breadth and commitment of these students".
Mr Hall continued that the school acknowledges those students whose results showed exceptional learning gain. "As a school we analyse student results and are able to identify those who performed well beyond expectations. We call this 'learning gain' and it demonstrates the hard work and dedication of these students and their teachers".
Ms Refalo, School Principal, addressed the assembly and spoke on what it means to have a good education. She said that a good education encompasses many elements - one in which high levels of literacy and numeracy are shown in good results; one in which the 21st Century skills of creativity, critical thinking, problem solving and collaboration are evident; one in which we demonstrate our faith in the values we express through our words and deeds; and one in which we are able to give our very best and feel valued for that.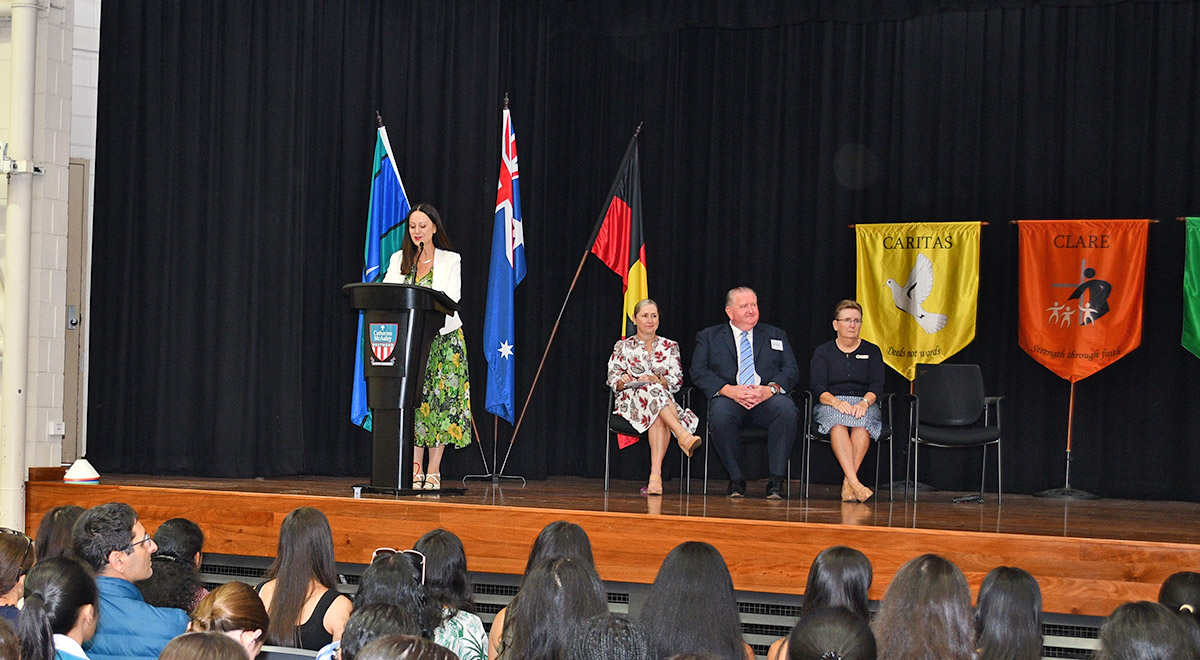 "As you go forward, I remind you of the good education you have been so privileged to receive at Catherine McAuley", she said. "Your school motto, Strive For Higher Things, has taught you to always do your best; to stretch yourselves, to enjoy challenges, to do a little better every time. It has taught you to know that sometimes things will be wonderful, and at other times things will be hard, but that you have the resilience and courage to excel and move through each situation. You can use this most important of skills to change some part of the world that isn't working right".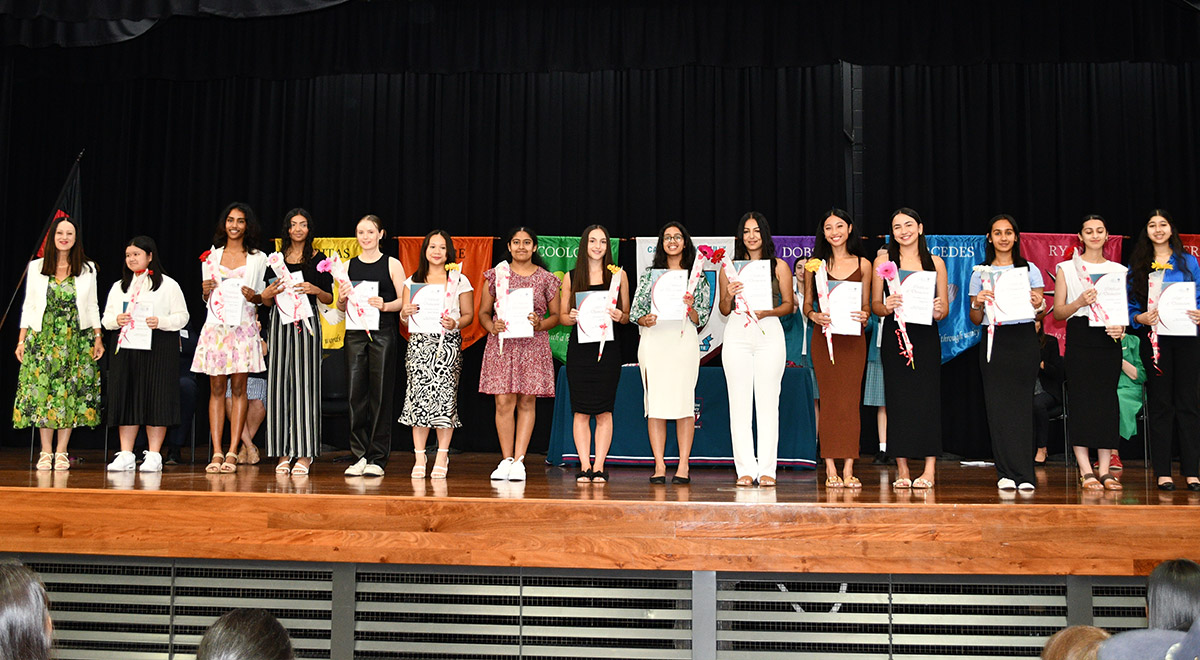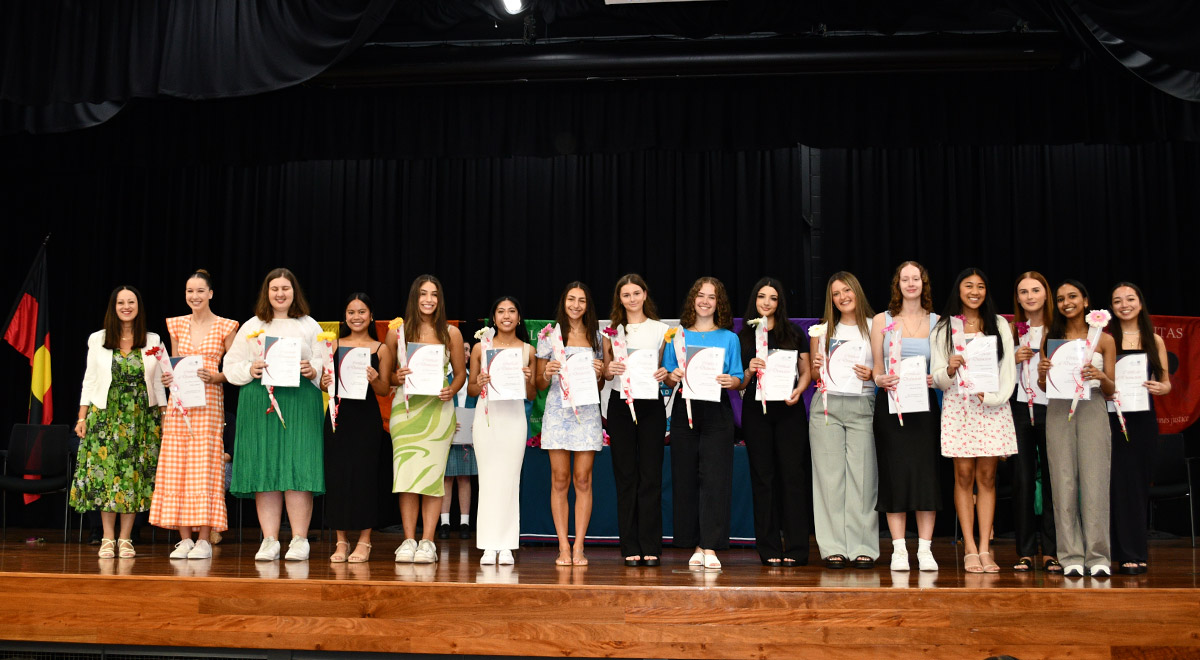 Ms Refalo concluded in thanking the Class of 2022 for being exemplary students and for always striving for higher things. "We are very proud of you because you are the women of the 21st Century, and you are both strong and powerful, well-protected by the important skills you have learned during your education here".
We know you will do well, and we know that you will live a life in which you give and receive mercy and love. Thank you for all that you have given us, and please accept our very best wishes for the bright futures ahead of you.
Class of 2022 High Achievers:
Leanne Alata
Madison Ambrose
Molly Barker
Christina Batti
Leila Bozic
Victoria Carr
Sophia Dingli
Alannah Elias
Sophia Escueta
Sofia Falzon
Adhithi Fernandes
Miranda Friscic
Paige Haddad
Yamonna Han
Darby Heaton
Amy Hekeik
Jasmine Icaca
Nishika Jain
Laila Kabir
Geetaali Kaushik
Chiara King
Jerica Macaraeg
Sandra Mankrious
Jennifer Mathew
Anita Mikhael
Naveena Navaratnam
Sarah Pamatian
Jessica Parkes
Aliha Razzaque
Arya Thachil
Egieneille Timpoc