2022 School Captains Remind Students To Use Their Superpowers
18 May 2022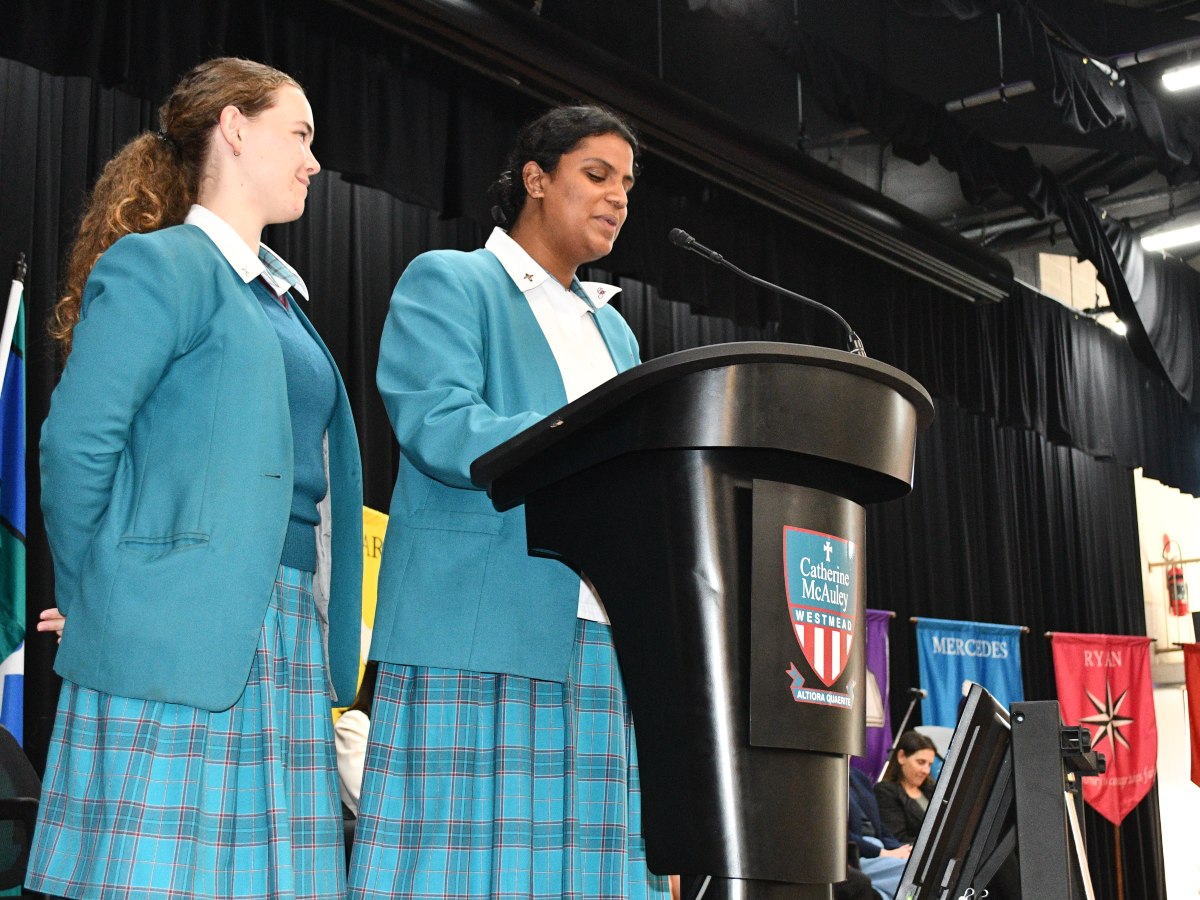 Victoria C. and Zara Z., Catherine McAuley School Captains, reminded students at the school assembly this week that no great hero works alone and that it is when we unite together we can become unstoppable.
It was a very special school assembly held on Wednesday, 18th May as it was the first time since the pandemic that the whole school has been able to gather together. It was therefore fitting that the school captains in their Captains' Address spoke to the school theme 'Grow In Unity' and told students that just like heroes in movies we are all stronger and cleverer when we work together.

"As an individual you have specific strengths unique to you and when you come together with your friends and peers you are always a valuable member of a team", they said. "In order to strengthen the team we need to ensure everyone has a place which means appreciating superpowers in all their forms and finding somewhere for all of them to fit. When people unite, they do amazing things".

It was a full agenda at the assembly with Ms Refalo beginning by acknowledging the celebration of being able to gather together without live streaming in what has been such a long time. Ms Refalo then went on to speak about the learning pit and reminded students to know where they are going in their learning.

The Student Sport Leaders launched Wellbeing Wednesday, an initiative to encourage the whole school community to walk to earn House points; Jasmine A., Year 12 performed a musical item; The Year 8 Library Ambassadors spoke about upcoming library events; Year 12 student Caitlin M. spoke about her learning pit journey whilst learning the violin; the Student Learning Leaders reminded students about peer tutoring which takes place in the library twice a week; Ms Chahine, School Careers Advisor and guest presenter Dr Nicole Bridges, Western Sydney University awarded certificates to the students involved in the Leadership Masterclass Program; and Arya T., Year 12 spoke about the upcoming Push Up Challenge for mental health.