Class of 2021 Achieves Excellent HSC Results
31 Jan 2022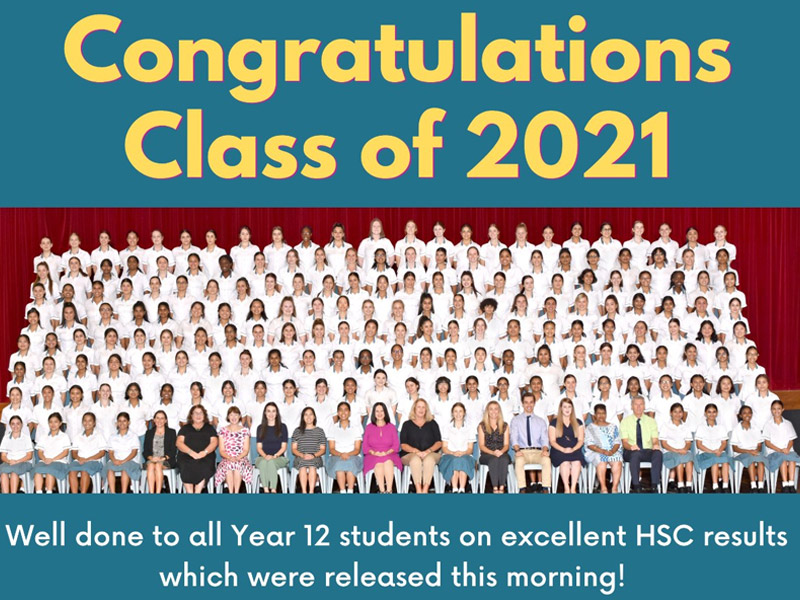 Well done to all Year 12 students on excellent 2021 HSC results! 82% of courses studied were above the State average. 114 band 6 results were achieved and 424 band 5 results.
Students achieved a band 5 or 6 in 55% of all exams undertaken and a band 4, 5 or 6 in 86% of all exams undertaken. This is a fantastic achievement!
Ms Mary Refalo, School Principal, congratulated the Class of 2021 on their excellent results.
"As always, students have worked hard to do their best work, and that has allowed them to achieve some very strong HSC results in a range of subjects. We are very proud of the 2021 Year 12 cohort".
Congratulations to Elanah Sebastian who was awarded a NSW Premier's Award for All-Round Excellence! Elanah achieved a band 6 in 10 or more units and has been named Dux for 2021.
64 students have been named on the Distinguished Achievers list. These students have received a Band 6 in at least one course.
Top Achievers for the Class of 2021 included:
Top Achievers - Class of 2021
Elanah Sebastian
2nd in the State for Legal Studies
Sibelle Azzi
10th in the Business Services Examination
Sophie Obreza
3rd in the Mathematics Standard 1 Examination
Alanah Maroun
Awarded a Distinction for her Personal Interest Project in Society & Culture
90% of students studying Creative and Performing Arts received a band 5 or 6!