2022 Catherine McAuley STEM MAD projects gain national acclaim
06 Sep 2022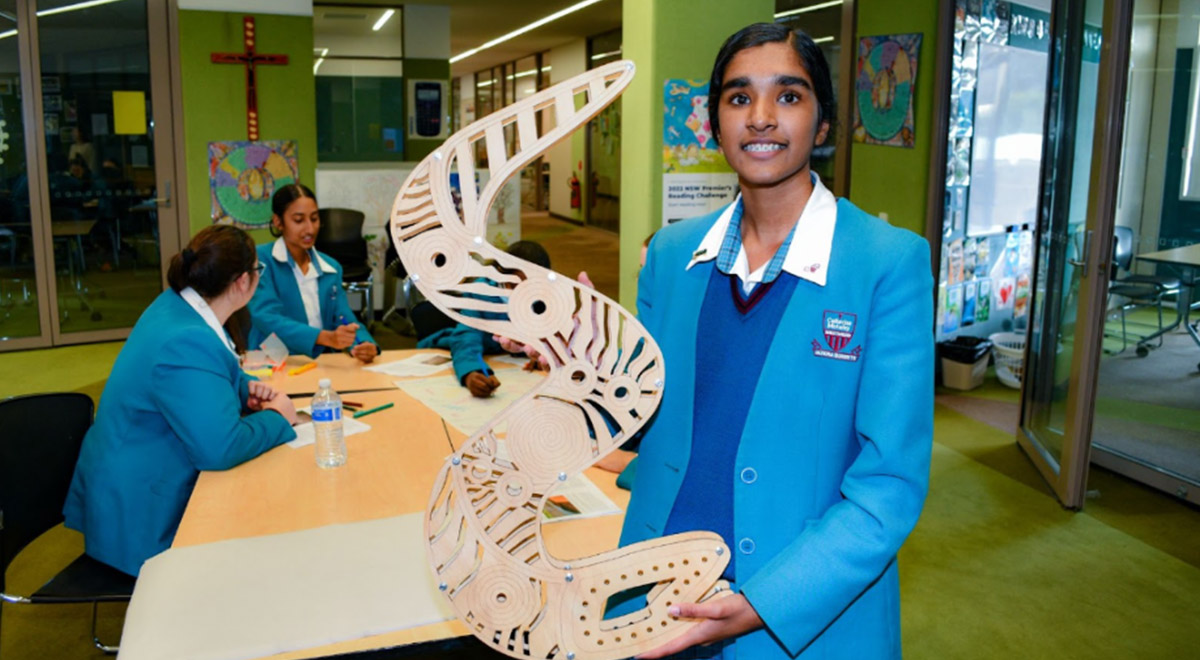 Catherine McAuley Westmead students have won three prestigious awards for the 2022 STEM MAD National Finals and will get to present their projects at the national showcase in Melbourne next week. The competition is a chance for school students to shine in Science, Technology, Engineering and Mathematics or STEM.
Year 11 student Ashyra, who is studying engineering through the School of Now, won the major Award for Demonstrating Catholic Ethos (Secondary) and also the Inspired by Nature award (Secondary) for her Jarara Totem Project inspired by the Aboriginal cultural heritage of her local community while Year 10 students Shivali and Luise won the Best Demonstration of Science in Context Award for their 'Eco Air' project.
"I was ecstatic at winning the awards and so grateful for the opportunity to actually be in the Showcase itself," said Ashyra. "It's such an incredible achievement to go against all these other students and then have my product and my hard work recognised at a national level."
"We were very excited when we had our names read out," said Luise. "We were just yelling and screaming," added Shivali. "It's great that the judges were able to see the efforts that we both put into our project."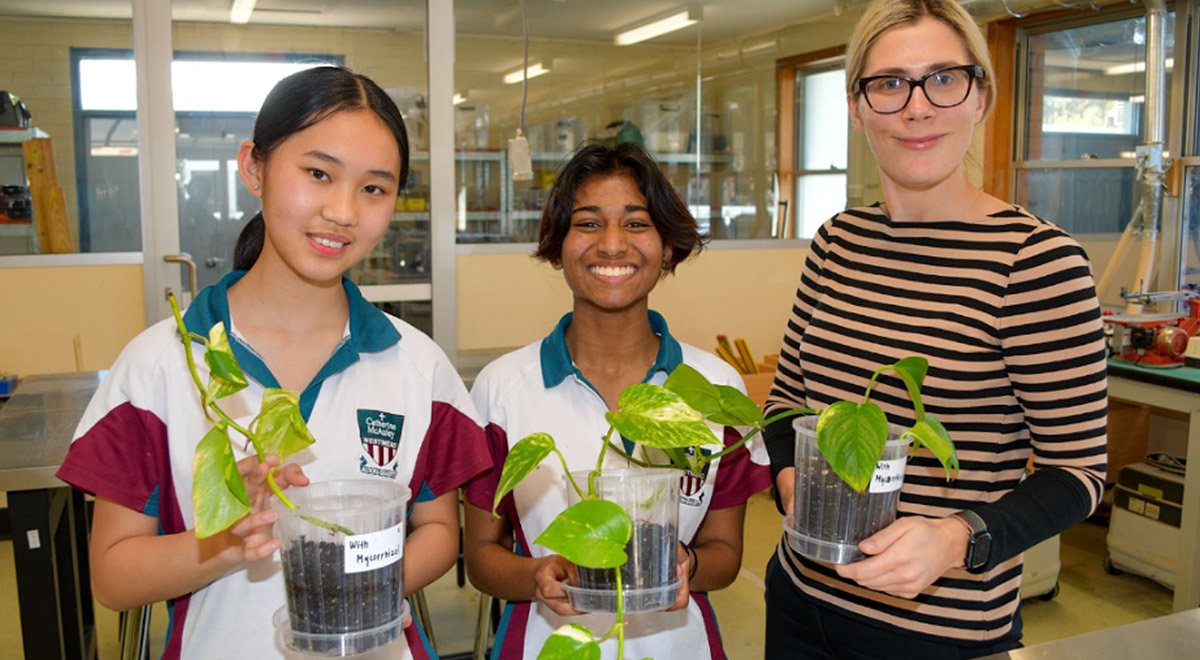 STEM MAD National is a celebration of student learning designed to acknowledge and promote STEM learning initiatives that address real-world problems and demonstrate the ethos of Catholic schools, encouraging students to make a difference (MAD) in the world by acting for justice and the common good.
Primary and secondary schools from 15 dioceses around Australia participated in the STEM MAD program.
"Luise, Shivali and Ashrya are all members of the Catherine McAuley STEM Club," said STEM Teacher Tara Hartman. "We have 60 students in the STEM Club which has doubled since it started last year."
"It's wonderful to see women in STEM succeeding and also to see their passion. The 'MAD' in STEM MAD stands for 'make a difference' and I believe that's what they're doing. So I'm thrilled that they've been acknowledged for this."
Ashyra teamed up with the Jarara Indigenous Education Unit team for her Jarara Totem Project. Jarara helps schools develop totems to enhance their cultural awareness and understanding.
"I did a lot of research on totems and our area in Parramatta and settled on the eel," explained Ashyra. "I began to sketch and construct a design that was transformed using CAD into a wooden sculpture and also silver brooches and pendants."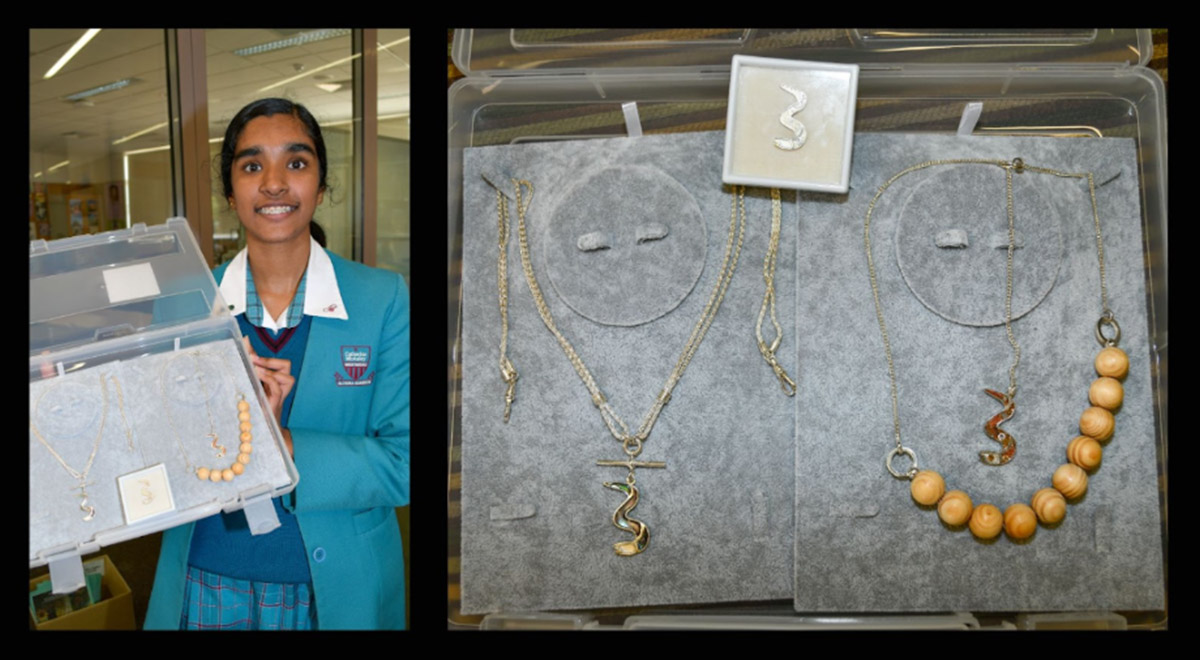 "To go from the artwork to the CAD (computer-aided design) drawing to actually getting the artefacts made, there's that STEM pipeline and understanding," said Paul Stenning, Catholic Education Diocese of Parramatta (CEDP) Head of Mathematics and Science. "It's the reason behind it which is the most compelling, which is that cultural awareness for Aboriginal and Torres Strait Islander peoples."
"The Jarara Totem Project aims to ensure that as Australian citizens, we acknowledge and make a visible effort to protect, respect and advocate for the beautiful relationship Indigenous people have with their land as stewards but also with their spirituality," added Ashyra.
Shivali and Luise teamed up to develop their 'Eco Air' project which is aimed at working out how to purify air in a classroom in a more sustainable way.
"We were concerned that air purifiers introduced to schools have a temporary shelf life and like most electronics, will eventually stop functioning and will lead to more e-waste in landfill and also consumes electricity simply to function," explained Shivali and Luise.
The pair researched natural alternatives such as an indoor vertical garden that could substitute the use of air purifier machines and decrease e-waste.
"They were two amazing projects from Catherine McAuley," said Paul. "Finding out which plants would filter oxygen the best was an outstanding example of science in action and how scientists actually have to create their own technological solutions."
Luise, who wants to become a civil or structural engineer when she finishes school, and Shivali who hopes to explore a career in aerospace engineering, both spoke about their love of STEM.
"I like to identify problems and find a solution," said Luise. "And there's a lot of research behind it. I also like how there's more than one subject behind it. There's maths and science. There is engineering. Lots of subjects are covered by STEM."
The three students will be travelling to Melbourne to present their projects at the National STEM MAD showcase on Tuesday 6th September.
It follows on from the highly-successful CEDP STEM MAD Showcase held during Term 2.
---
Read more about all the incredible projects